Meet Atlan at
dbt Coalesce
Hear from the Atlan community, network with humans of data like yourself, and learn how
Atlan and dbt can help you build well-defined, trusted data products.
dbt Coalesce, San Diego
October 16 - 19
Booth #206
Get front-row seats. 
Go behind-the-scenes.
Activate the full potential of your dbt projects
Learn why Atlan and dbt are central to how Avenue One manages their data ecosystem, brings their product to market, and positions an already fast-paced start-up for scale.
11:00 AM - 11:20 AM PDT
Thu, Oct 19
Join the
active metadata
club
Your metadata shouldn't be the only thing that's active — meet the Atlan community
at the most exciting events at dbt Coalesce!
Data Social Late Night Party
Punch Bowl Social, San Diego
Tues, Oct 17
8:00pm - 11:00pm PT
You're invited to the go-to after party for Coalesce attendees, hosted by your friends from Monte Carlo, Atlan, Census, Brooklyn Data Co., Fivetran, Starburst, Sigma and Y42!
Reverse your spot →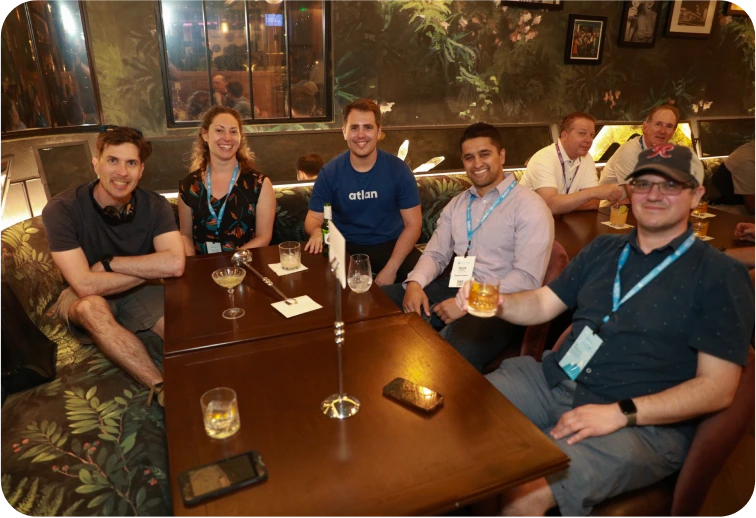 Meet Atlan at

dbt Coalesce
We're excited to meet you in person at dbt Coalesce 2023! Sign up for a personalized demo, our talk with Avenue One, or an invite to our evening events.
Sign up to meet Atlan at
dbt Coalesce 2023