Alation
vs Atlan
Industry experts and practitioners who have used both agree: there's simply no comparison to Atlan.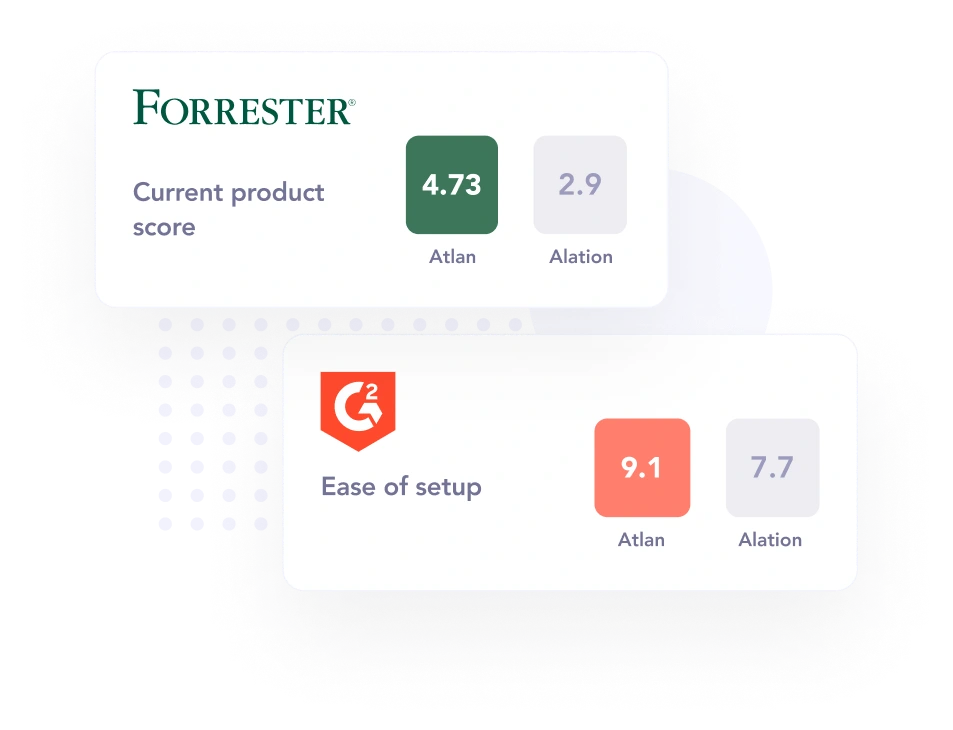 While evaluating Alation vs Atlan: why 83% of data teams chose Atlan
Seven of the top reasons why over 83% of data teams chose Atlan over Alation in head-to- head trials.
1. Easy to set up, deploys in weeks, not months
2. Collaboration-focused UI/UX that encourages adoption amongst both technical and
business users
3. Column-level lineage that actually works. It's automated, brings in key metadata context
and is intuitive to use
4. Metadata and context are embedded directly in tools, that users already love and use
5. Native and deep integrations with all best of breed tools across the data estate
6. Strategic customer support that partners in identifying and driving business critical initiatives
7. Upfront pricing that is based on value and non-prohibitive, an investment that you can feel confident leaning into

Read more on why Atlan is better than Alation →
Book a demo
Alation vs Atlan:


a comparison of how they drive
business outcomes

In the table below, you can find a quick comparison of how Alation and Atlan
address common challenges faced by data leaders
Factor

Enabling self-service analytics across your org

Not the easiest to use, and no easy way to collaborate with data experts
Open, scalable, non-technical users typically start self-serving their data requests within a month of deployment

Encouraging adoption across your org

Non-intuitive UI/UX and poor product experience, leading to poor adoption
Intuitive collaboration-focused UI/UX, any type of user can hit the ground running

Ease of setting up

Require 4 months or more, need implementation support experts
DIY setup, typically in weeks

Time to experience actual value

Long time to value, often taking a year or more, after a cumbersome multi-month deployment cycle

The major roadblock to realizing value is the lack of adoption
First, metadata-driven value is in a matter of weeks not months.

Easy adoption by diverse stakeholders makes value inevitable

Keeping pace with how you grow as a business

May not handle change well

Legacy platform, a closed solution, incapable of supporting federated/ automated/ distributed paradigms like Data Mesh, Data Fabric, and Data-as-a-Product
Is open to change in your stack and growth

Open-by-design, cloud-first Kubernetes-based platform with natively built-in microservices. Purpose-built for Data Mesh and Fabric

Bringing visibility into your entire data estate

Focused on the breadth of integrations vs depth of integrations.

Better for on-prem integrations, but not good for cloud-native modern tools
Deep integrations with cloud-native modern tools. Cloud-first, Cloud-native platform as core DNA

Present with major on-prem providers and emerging in others

The overall cost of deployment and maintenance

Prohibitive pricing, plus support needed to deploy is added cost
Pay-as-you-go pricing, aligned to usage and value
Alation vs Atlan:


which solution is the most future ready?

Alation and Atlan are two generationally different products. Alation is a traditional data catalog. Atlan is an active metadata platform.
Here are some key differences in how the platforms are being built:
| Factor | | |
| --- | --- | --- |
| Forward looking architecture | Static closed platform that operates in silos | Open, scalable, tech-debt-free platform, suited for data fabric and data mesh |
| Active governance | Manual stewardship | Programmatic governance through metadata activation |
| AI readiness | Limited AI/ML capability | The truly AI-ready data catalog |
Alation vs Atlan:


notes from users who've used both

How do users who've used both compare Alation and Atlan?
Collaboration focused UI/UX

Pay as you go pricing

"Our priority was to find a tool that business wants to use, not have Informatica like scenario. Alation wasn't like the easiest to use, it was super expensive, their user profile was confusing.

Atlan's simple UI makes it easy for someone senior like me to traverse. Atlan was bang on the buck - what you got us for the package was amazing"

Leading search platform powering 50% of the Fortune 500
Item 1 of 3
Alation vs Atlan:


the long and short of it

Alation is a traditional data catalog, while Atlan is a pioneering active metadata platform. Atlan is not just rated over Alation in terms of product functionality, but also in product vision, innovation roadmap, and market approach. The company focuses on constant innovation and partnering with customers to generate value.
Source   

The only catalog that

Activates your Metadata
See Product Tour
Book a Demo