RESOURCES
The Ultimate Guide to Evaluating Data Lineage
19 questions and gotchas to look out for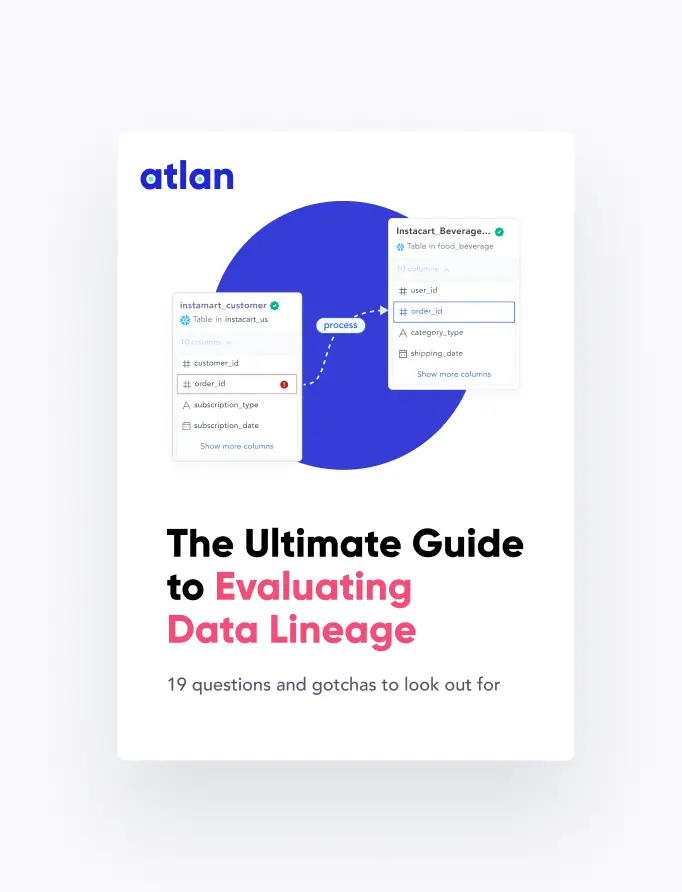 Data lineage is indispensable in your data toolbox. But what does great lineage look like?
In our experience working on thousands of data projects, both with our customers and as a data team ourselves, we've seen that the lineage conversation often misses the mark. Here are the 19 questions you should ask when evaluating a lineage tool to fully assess its depth, breadth, and utility.
Here's what this ebook covers
Understand the core capabilities
A brief history of how metadata management has evolved since its creation in the 1990s
Assess the scope and extensiveness
Why current data catalogs are falling short, and the five trends behind third-gen catalogs
Account for past experience
What the third-generation data catalog looks like, and how it fits into our modern data stack
Check for lineage superpowers
Does it include in-built collaboration and automation superpowers, which are the holy grail of lineage tools?
Meet the active metadata platform with industry-leading lineage
Atlan is more than a modern data catalog or lineage tool. It's the leading active metadata platform, named a Leader in the Forrester Wave: Enterprise Data Catalogs for DataOps.