Gold Sponsor
The Modern Data Stack
Conference 2023 by Fivetran
San Francisco
April 4-5, 2023
Booth #9
Meet us at the summit
Attend our insider session
Access Granted! Active Metadata Unlocks Governed Data Discovery
3:00 - 3:20 PM PDT
Tue, April 4, 2023
Show Floor Theater
Getting more of your teams access to the trusted data they need without creating bottlenecks or compromising on compliance — think Marketing, Sales and Finance — is the promise of data democratization. We'll break down challenges with data democratization, discuss how active metadata is critical in achieving this vision, and the benefits it is already having on data discovery.
Austin Kronz
Director of Data Strategy, Atlan
Join Us →
Activate your Data Pipelines with Atlan + Fivetran
Sign up for a demo on how Atlan integrates with Fivetran's Metadata API to create truly end-to-end lineage, covering everything from upstream sources to the warehouse, and finally, to the BI layer.

PS - we are giving away fun swag at our booth. Reserve yours by signing up for a demo today!
Unwind with
other humans of data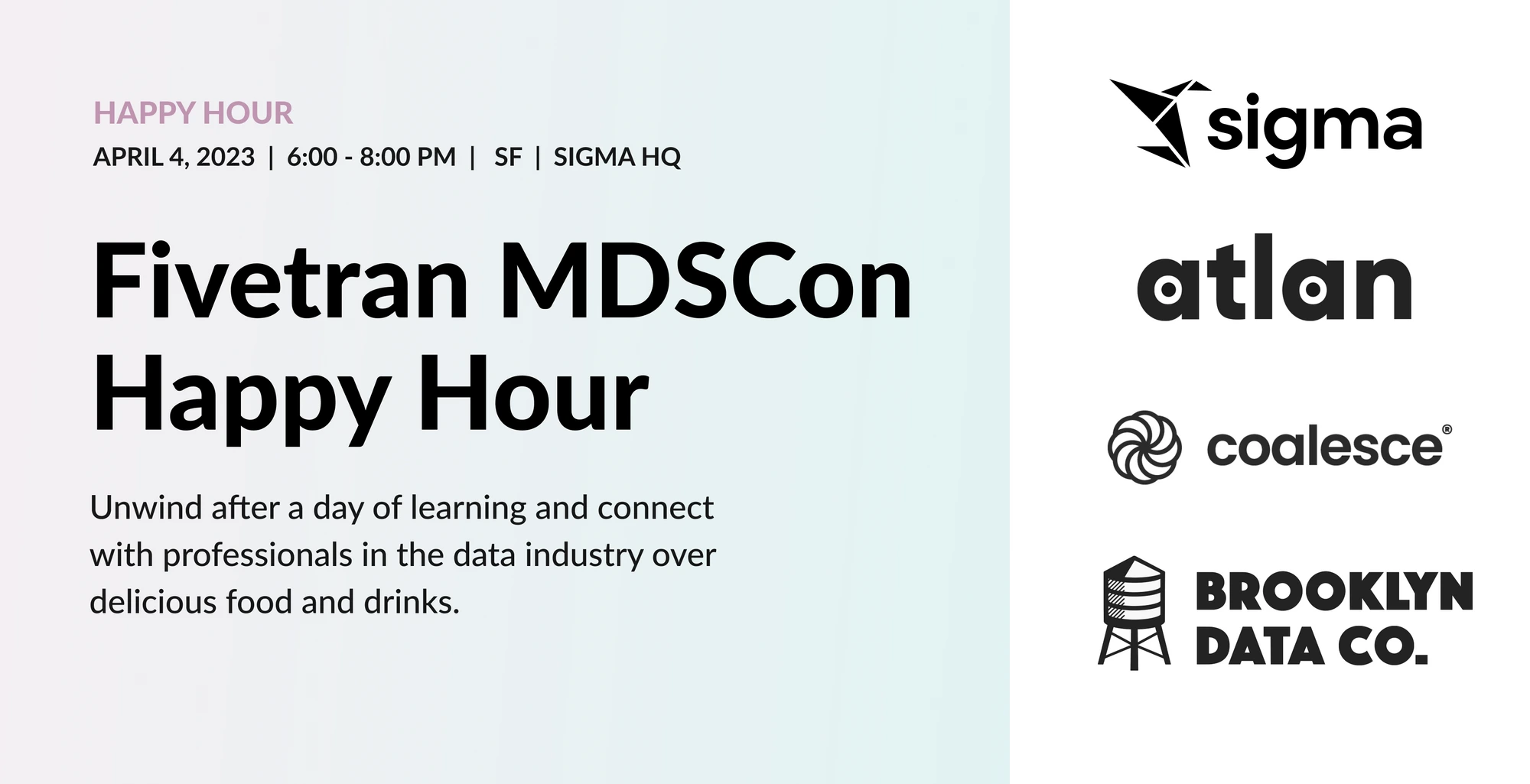 Fivetran MDSCon Happy Hour with Atlan, Sigma, Coalesce & Brooklyn Data
Meet us at the Snowflake Summit to see how Atlan and Snowflake are working together to empower modern data teams at Scripps, Widen, TechStyle, and Womply.
6:00 - 8:00pm

Tue, April 4

Sigma Computing HQ
Register Now
Meet Atlan at the
MDSCon
We're excited to meet you in person at MDSCon 2023! Sign up for a demo of Atlan + Fivetran's Metadata API or our happy hour celebrating the humans of data.
Sign up to meet us at the
MDSCon 2023