Future of the
Modern Data Stack
Watch the founders of the modern data stack for an interactive discussion on the changing data ecosystem and what lies ahead.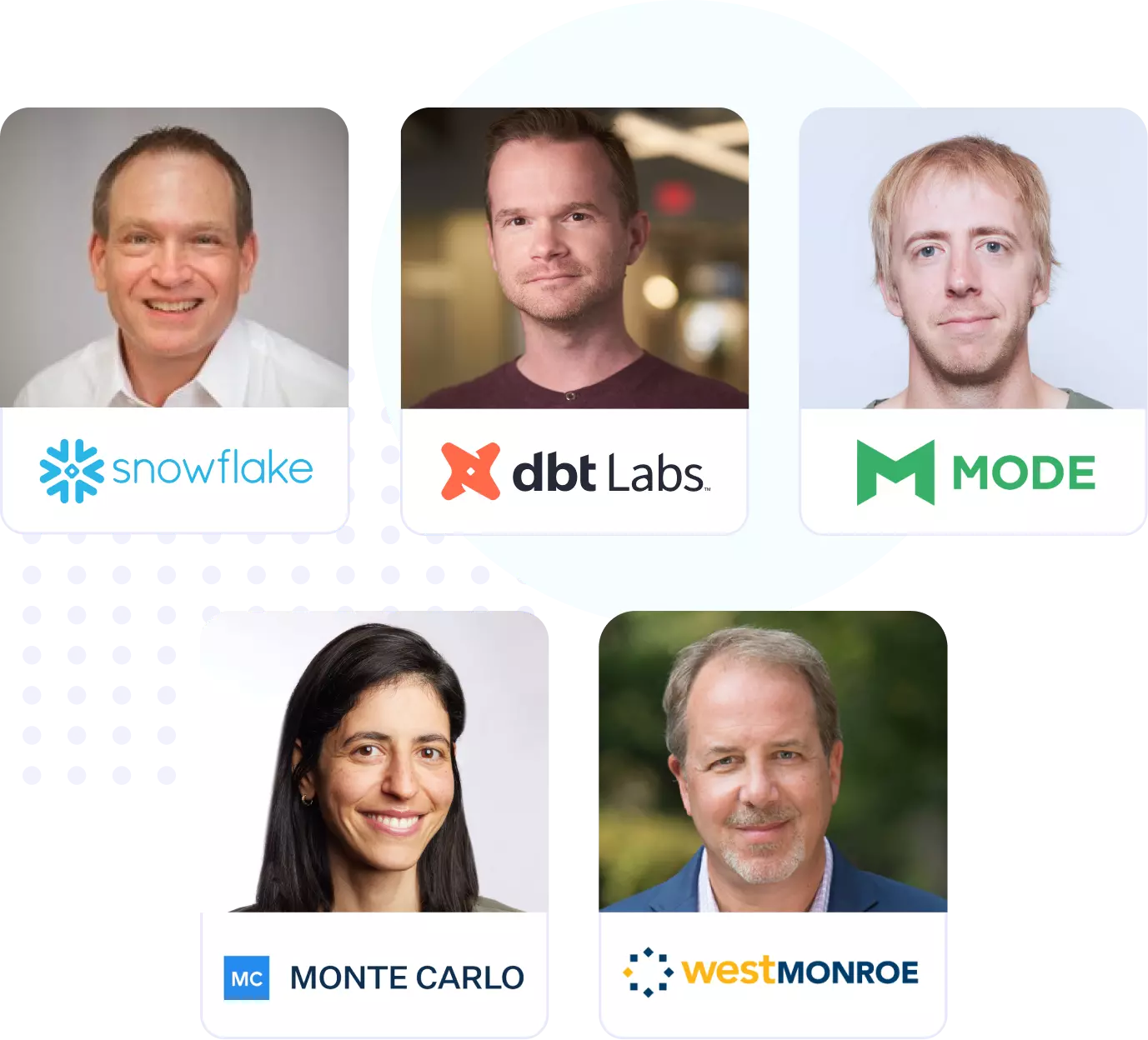 Meet the panelists
Bob Muglia is a business executive and R&D specialist. He was the CEO of Snowflake for five years, starting in May of 2014. Prior to Snowflake he spent 2 years at Juniper Networks and 23 years at Microsoft.
A leader in the data transformation space used by 11k+ companies including JetBlue, HubSpot, and Vodafone New Zealand. He has over two decades of experience as a data practitioner working in both large enterprises and startups.
Benn has held roles leading Mode's data, product, marketing, and executive teams, and regularly writes about data and technology at benn.substack.com. Prior to founding Mode, Benn worked on analytics teams at Microsoft and Yammer.
Doug Laney is a best-selling author and recognized authority on data and analytics strategy. He advises senior IT, business and data leaders on data monetization and valuation, data management and governance, and analytics best practices.
Barr Moses is Co-Founder & CEO of Monte Carlo, a data reliability company and creator of the data observability category, backed by Accel, GGV, Redpoint, ICONIQ Growth, Salesforce Ventures, IVP, and other top Silicon Valley investors.
On a quest to help the humans of data do more, together. Previously founded SocialCops, world leading data for good company (New York Times Global Visionary, World Economic Forum Tech Pioneer)
Session 1: AI-Powered Data Stack
How will AI impact data governance? Could an AI copilot help data teams work better? Will AI finally help us democratize data and make better decisions? In this session, we'll debate the questions everyone's asking… and nobody's answering!
Bob Muglia,
Former CEO, Snowflake
Tristan Handy,
Founder & CEO, dbt labs
Prukalpa Sankar,
Co-founder, Atlan
Austin Kronz,
Director of Data Strategy, Atlan (Moderator)
Session 2: Future of Data Culture: ROI, Value & Data Teams
Ever wish you could have leading voices in the data and analytics world help you build out the best data and analytics organization possible?
Barr Moses,
Co-Founder and CEO, Monte Carlo
Benn Stancil,
Co-Founder, Mode
Douglas Laney,
Data & Analytics Strategy, West Monroe
Austin Kronz,
Director of Data Strategy, Atlan (Moderator)
The only catalog that

Activates your Metadata
See Product Tour
Book a Demo