Why a Strong Data Documentation Culture Is Critical to the Success of a Growing Data Team

Essential documentation processes that help teams keep each other informed suffer due to the lack of a strong data documentation culture.
Modern businesses have access to the best communication tools, comprehensive internal and external data, and fully integrated data management systems.
Despite this, gaps between operational silos and in more extreme cases, even between individual employees within a team, continue to create issues.
As of 2022, only 32% of US employees appear to be engaged with their work. As hybrid work models become the default arrangement for a larger proportion of American employees, businesses must find new and more effective ways for employees to share information and engage with each other.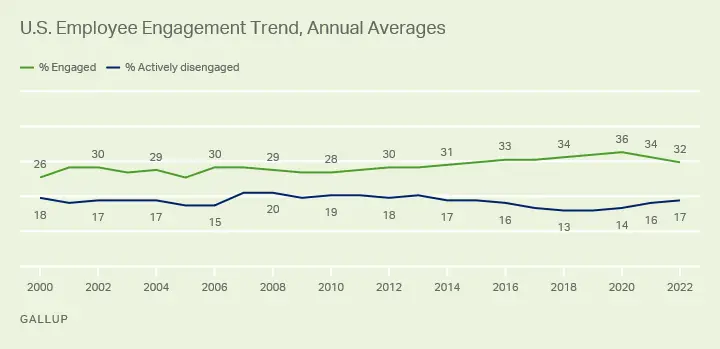 ---
---
The importance of building a documentation-first data culture
Employee-related internal data, as well as important operational data, is often available for business leaders to evaluate and analyze for the company's benefit. However, this data is not always collected, processed, or analyzed efficiently and effectively.
Here are three use cases in which a strong documentation-first modern data culture can help businesses build more effective processes for the benefit of employees and customers alike:
Onboarding of new team members
The onboarding processes can have an immediate and long-lasting impact on an employee's job satisfaction, the potential for long-term retention, and the likelihood of recommending their employer to another talent. Despite this, onboarding seems to be an area of weakness for many organizations.
A Gallup survey revealed that 88% of employees don't believe that their organization does onboarding well. A data documentation culture can help team leaders design an effective onboarding process that is executed consistently across hires and improves a new hire's ability to access and understand company-specific terminology and other information that they need to get up to speed.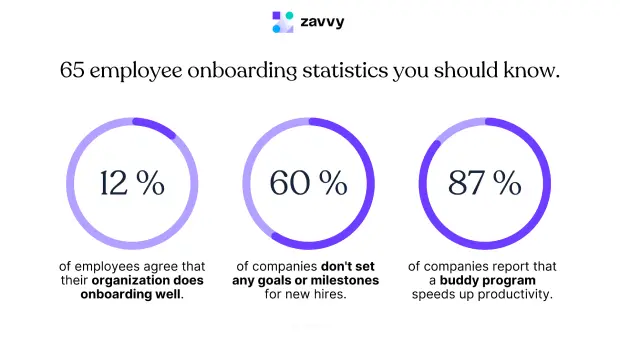 Handover of projects to other teams
Collaboration and communication are increasingly important processes in a hybrid working environment. These processes are perhaps the most important during project handovers.
Whether a project is being handed from employee to employee or department to department, it is important that the information that is being shared is presented in an understandable and accurate fashion.
A strong data documentation culture would mean that employees are comfortable assessing documents for information and are aware of the terminology used within those documents, regardless of the department they come from.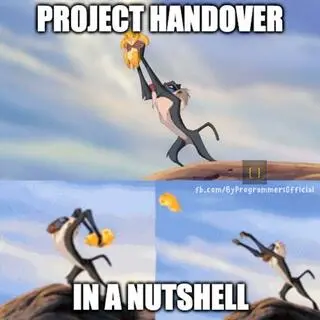 Scaling insider knowledge
Insider team knowledge a.k.a tribal knowledge is easy to manage within operational departments but can cause confusion when scaled. Inconsistent use of terminology, poor communication lines, and inaccurate or repeated information are just some issues that can arise if information-sharing mechanisms are not scalable.
Data documentation helps businesses prevent these issues from arising by codifying the language used within documents and creating easy ways to share and access this information.
---
The business case for data documentation
1. Prevent costly data issues with data observability
Many operational teams already engage in data documentation. However, this usually happens as an administrative process designed to enable business leaders to look back on problems that have already occurred, not prevent them from happening in the first place.
A culture built around documentation can help businesses lay the groundwork for true data observability. A documentation-first culture requires employees to collect and organize data using consistent formats and styles that to prevent data inconsistencies from forming.
2. Develop more cost-effective data solutions with improved insight across departments and business verticals
In addition to the data benefits that effective documentation can provide, the resulting data observability also empowers business leaders to build better data management systems, reduce data management costs, and ensure high levels of data quality at all times.
Each of these benefits extends to the areas that the data is meant to represent. For example, consistent and high-quality financial data can help finance teams find new ways to improve accounts receivable management, or high-quality employee engagement data could help human resources teams prevent high turnover rates from affecting the business.
---
A Guide to Building a Business Case for a Data Catalog
---
A framework for data documentation
The benefits of data documentation can be felt across the organization if done well. Business teams often try to follow the best practices that they are aware of but in the absence of a consistent framework, these practices often don't scale as needed.
The 5W1H data documentation framework helps data teams align data processes across operational silos. This framework encourages organizations to develop a short list of metadata attributes that one needs to call any piece of data asset well-documented.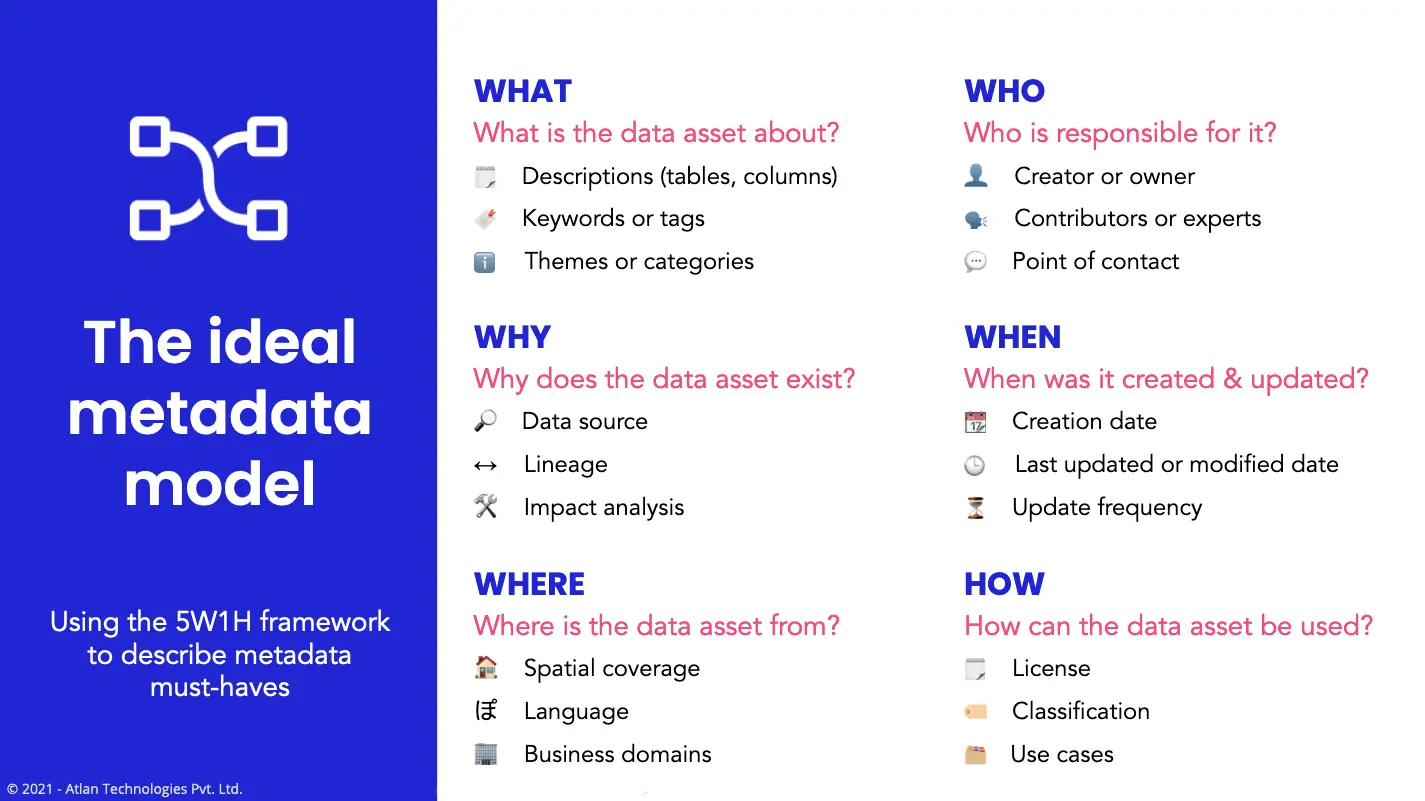 How businesses can choose the right data documentation tools for their needs
A large variety of data documentation tools is available to businesses today but not all tools are created equal. Organizations must evaluate their unique needs and explore the individual tools within a tool type. Once the needs of the organization are evaluated, the features that data teams need to meet those needs become exceedingly clear.
Here are some different data documentation tool types that businesses can use to meet their data objectives:
Word processors: Most businesses are already using word processors but they can be difficult to maintain and prepare for numerous use cases. These are best used by businesses with extremely minimal or highly standardized data documentation needs.
Spreadsheets: Spreadsheets are great for navigating data points but can be highly time intensive and inefficient to maintain.
Read-only documentation generators: This tool should only be used to extract data and generate documentation from existing databases without editing capabilities.
Read and write enabled documentation tools: When sharing data with business leaders who might want to annotate or comment on data points, this tool might be the most appropriate.
Data dictionaries: For teams with many non-technical users, this tool can help to explain the different data types, sizes, values, constraints, and more of each data point.
Data glossaries: This is a tool that helps business leaders standardize and share the definitions of business terms in the context of that specific organization.
Data modeling tools: These tools are great for developing diagrams and accessing a global repository of information but are notoriously difficult to maintain and describe data elements.
Diagraming tools: These tool works best when business users don't need full documentation but rather diagrams to represent data points within the data source.
---
A demo of Atlan for data documentation
---
Fully experience the benefits of data documentation and observability through a strong corporation-wide data culture
Regardless of the tools, a business chooses to use, the success of an organization's data practices will depend on its ability to create a strong data documentation culture.
Decision makers and policy designers can create processes that generate the insights they require but employees on the ground must understand these processes and participate in them consistently and effectively.
Managers and business leaders should do all they can to communicate the benefits and importance of effective data documentation processes and combine that with data observability tools that can alert them if these processes fail to generate the desired data or results.

Learn more about Acceldata here
---
If you are evaluating and looking to deploy best-in-class data documentation for your data ecosystem? Do give Atlan a spin.
---
Data documentation culture: Related Resources
---