Stemma Alternative: 8 Reasons to Choose Atlan's Mature Platform and Partnership
Updated September 05th, 2023

Looking for Stemma alternatives? Atlan is the tool of choice for the world's best data teams and should be yours too. Here's why:
Established platform known to power innovative use cases
The only active metadata platform
Connects to all your favorite tools
Drives a cultural shift towards proactive data governance
Cross-system, usable, column-level lineage
Pioneering AI usage in data workflows
No vendor lock-in
Proven customer partnerships driving business-critical outcomes
---
"I don't want to go for the cheapest solution. I want go for the solution that gives me return on investment, including time, opportunity and cost… Atlan is more established, much more polished and complete than Stemma. [Also] Atlan has a 24X7 support and professional services like dedicated customer success team, cloud team etc."
-VP, of Data and ML Engineering at California-based gaming company
---
Let's review each of these points to help you with your evaluation process.
Established platform known to power innovative use cases
Open-source and niche solutions often lack maturity and support limited functionality and use cases.
In contrast, Atlan is a mature platform trusted by industry leaders such as Nasdaq, Elastic, Austin Capital Bank, Tide, Contentsquare, Hinge, and numerous others, from the Fortune 500 to groundbreaking startups.
Read more about how:
---
The only active metadata platform
Atlan is the only active metadata platform - pioneering the category - with use cases for optimizing costs, ensuring quality and security, and supporting compliance, among others.
An active metadata platform collects and sends enriched metadata to all your data tools. With bidirectional communication, collaboration, and data flows, you can set up a living, intelligent, action-oriented data ecosystem.
For example: You can be in a BI tool like Tableau and encounter a number in a dashboard that doesn't look right. In this case, using Atlan's Chrome extension, you can see a sidebar with all context on a data asset pop up in the same tab for you to understand and act on.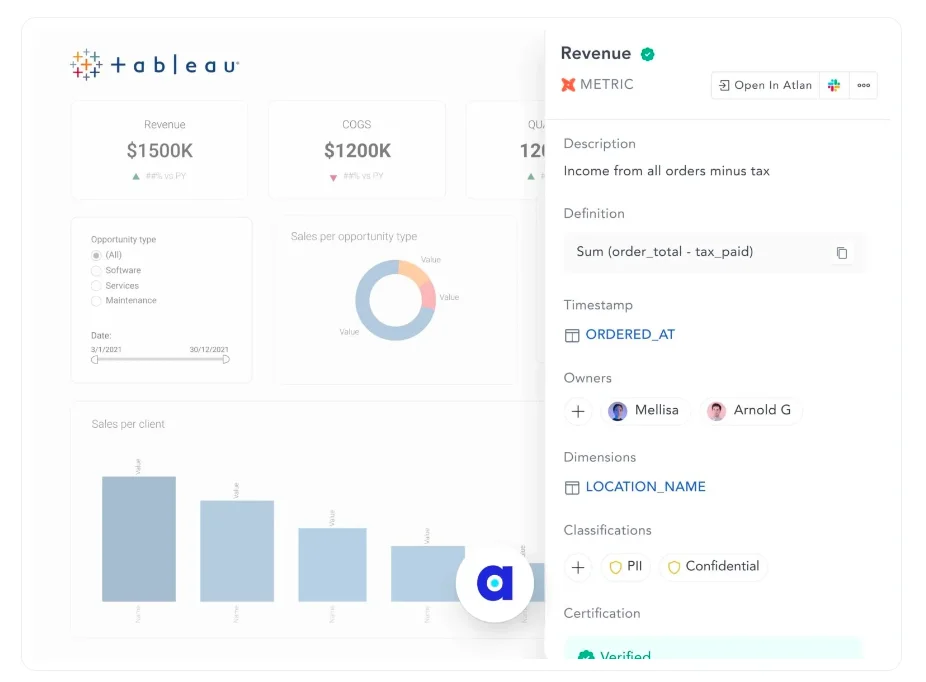 Also, read → How NASDAQ uses active metadata to evaluate data strategy
---
Connects to all your favorite tools
A data catalog is only as valuable as its ability to connect with top-tier tools in your data stack, such as Snowflake, dbt, Fivetran, Looker, Redshift, Slack, and Power BI, among others.
Atlan is the best-of-breed offering when it comes to connecting your entire ecosystem, with deep native integrations for popular modern data stack tools.
Atlan is also open by default — an open API architecture that makes it extensible, and capable of connecting your favorite data warehouses, transformation engines, and BI and collaboration tools.
Read about all connectors and capabilities here
---
Drives a cultural shift towards proactive data governance
Active data governance is a scalable way of securing your data, ensuring its privacy and integrity while promoting data democratization.
Atlan considers utilization patterns and behavior to develop bottom-up collaboration governance.
Data governance with Atlan is also scalable as it automates the various aspects, such as rules to ensure RBAC, policy propagation and enforcement, logging audit trails, documentation, etc.
Open-source tools don't offer all of the above-mentioned capabilities and you may have to develop extensive workaround.
Also, read → Read Contentsquare's Ultimate Guide to Building and Scaling a Data Governance Program
---
Cross-system, usable, column-level lineage
Data lineage is essential for understanding and monitoring data flow in your organization. Tracking lineage down to the column level offers a clearer view of data asset relationships and helps anticipate the impact of your actions on interconnected workflows.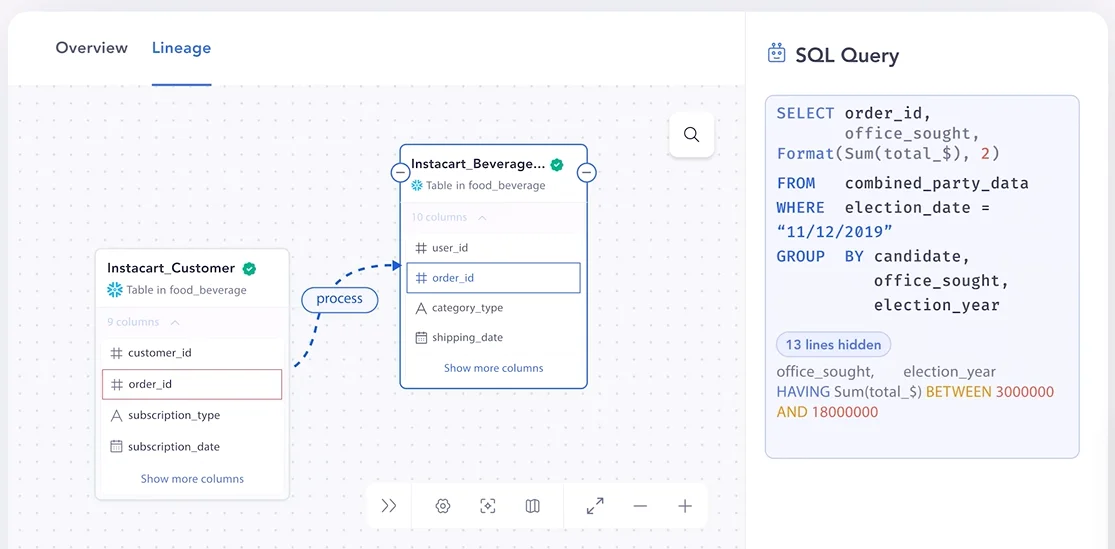 However, it's not enough to simply map assets. Lineage should be intuitive, interactive, and actionable, enabling you to respond to issues in real time and notify all stakeholders.
For instance, besides bringing in metadata from your data stack and mapping relationships to a column level, Atlan also has built-in line actions. These allow you to raise tickets in Jira, collaborate on Slack, and more.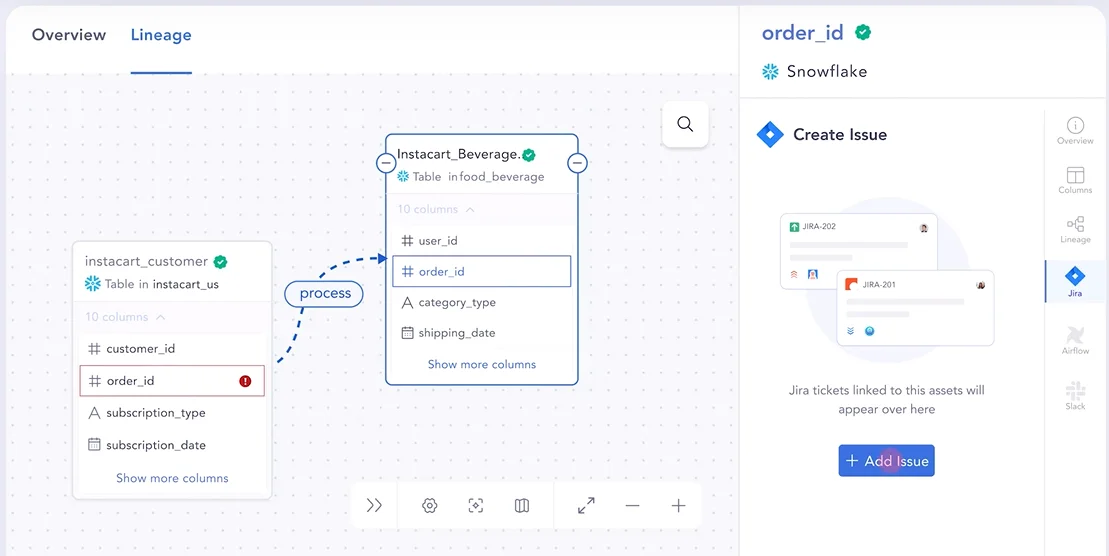 ---
Pioneering AI usage in data workflows
With the evolution of LLM tools, several tools (including Stemma) have started offering some level of automation for data enrichment.
Atlan AI goes a step further and serves as the copilot for every human of data — be it data analysts, data scientists, data engineers, or business users.
With Atlan's AI capabilities, you can:
Save costs with faster and more efficient data discovery
Identify new opportunities to boost revenue
Work less with automation and intelligent recommendations for data documentation
Eliminate data inconsistencies across applications, reducing data-related challenges
Accelerate time-to-insight with no-code data exploration
Furthermore, Atlan's Playbooks empower you to automate every task at scale — identifying and removing unused data assets, propagating data classification, sharing pipeline statuses, verifying tables, and more.
You can think of it as Zapier for metadata.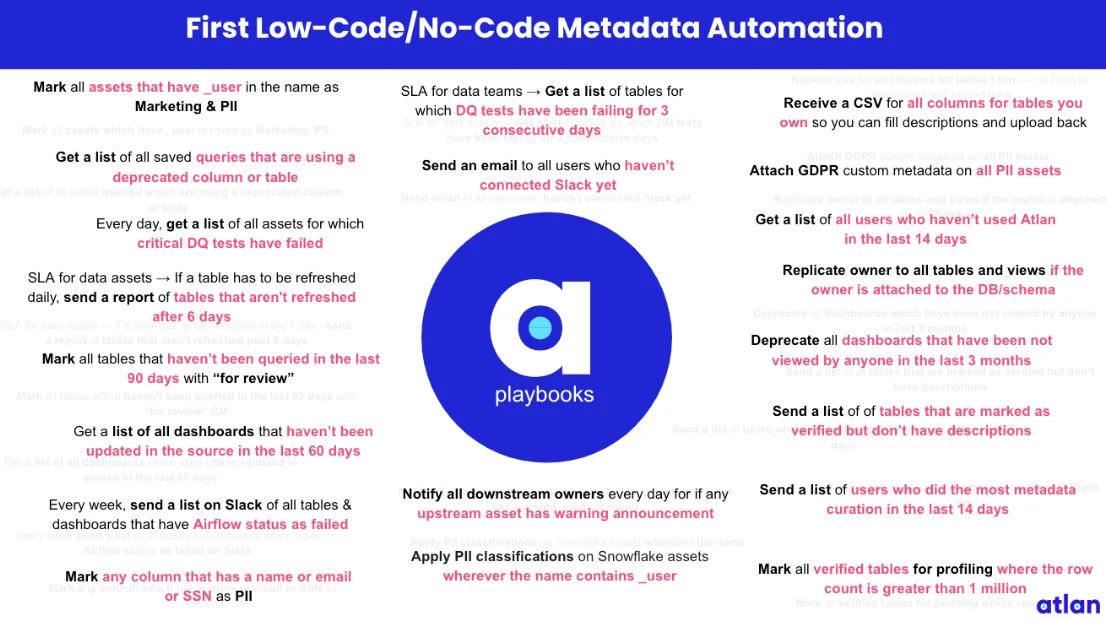 ---
No vendor lock-in
Vendor lock-in can either be in the form of technology or contracts. They limit your migration options and shackle you with inflexible, long-term agreements.
Atlan liberates you from these constraints.
Atlan gives you the flexibility to go with a standalone catalog/metadata platform and augment it with best-in-class MDS solutions for different parts of the data flow vs. a locked-in platform that may not serve your business needs.
---
Proven customer partnerships driving business-critical outcomes
You can drive data catalog adoption when you tie it to your business outcomes. Sometimes, support from a data catalog partner can simplify this process. Tools like Stemma offer limited support in the form of technical documentation and demos.
On the other hand, Atlan invests heavily in driving data enablement efforts for its customers.
Atlan's customer success and experience team works with you to identify and implement your business-critical data initiatives. The team includes dedicated customer success managers (CSMs) and customer solution architects (CSAs), available whenever you need them.
Atlan also contributes to upskilling with DataOps leadership programs and customer-led masterclasses, among other initiatives.
---
" Atlan, at the heart of our successful data governance strategy! The Customer Success & Experience Team! They are always available, patient, and ready to help at any moment of the day!"
-Kenza Z, Data Governance Strategist, Contentsquare
---
Stemma alternatives: Concluding thoughts
A data catalog should empower you to uncover business-specific insights from your data assets. According to Forrester, an enterprise data catalog must:
Address the diversity, granularity, and dynamic nature of data and metadata
Generate deep transparency of the nature and path of data flow and delivery
Deliver a UI/UX that reinforces modern DataOps and engineering best practices
A data catalog that activates metadata, enables powerful programmatic use cases through automation and simplifies adoption is the ideal choice.
So, if you're looking for a data catalog for your organization — get hands-on with Atlan and see how it transforms your experience with data.
Atlan is trusted by some of the world's leading data teams, including Nasdaq, Elastic, Docker, Juniper, WeWork, Postman, and Ralph Lauren — to name a few. Check out what our customers have to say about us here.
---
Stemma Alternatives: Related Reads
---