Atlan Alternatives? There Are None. Eight Reasons Why The Best Data Teams Love Atlan!
Last updated on: June 15th, 2023, Published on: June 15th, 2023

Checking out Atlan Alternatives? None come close. That's why Atlan tops the charts everywhere, from Forrester's 2022 Wave™ Enterprise Data Catalog report to G2's Spring 2023 Grid® reports.
The best data teams in the world — organizations like Nasdaq, Elastic, WeWork, Unilever, Juniper, Docker, Brainly, Chargebee, and more — rely on Atlan to discover, trust, and understand data.
In this article, we'll explore 8 reasons why future-focused data teams are overwhelmingly choosing Atlan.
---
8 reasons why modern data teams choose Atlan
The best data teams in the world choose Atlan for eight compelling reasons. Here are the factors that drive their preference:
The only active metadata platform: Atlan is the only platform that makes data and metadata available in your tool of choice, eliminating data silos and context switching
Designed for organization-wide adoption: Atlan's intuitive, customizable UI/UX enables self-serve analytics and promotes data catalog adoption for your entire data team
Powered by automation and AI: Atlan is one of the earliest AI data products leveraging automation and generative AI to scale documentation, querying, discovery, and more
Intuitive, interactive, and usable column-level lineage: Atlan's cross-system, column-level lineage provides a complete picture of data flow and lets you drive action directly
Ensures proactive data governance: Atlan ensures data governance is active and a part of everyone's daily workflows
DIY implementation and self-serve analytics: The entire setup and onboarding process takes weeks, not years
Open-by-default architecture: An open architecture that lets you integrate your favorite data tools to build an interconnected and interoperable data ecosystem
Atlan is your partner, not vendor: Having dealt with data problems firsthand as a team, Atlan is designed to be a partner in solving your data challenges, as opposed to merely being a solution vendor
Also, read → Why data practitioners everywhere love Atlan
Let's now dissect and explore each reason in a more comprehensive manner.
---
The only active metadata platform
Active metadata upgrades data catalog software from just passive shelfware to an active platform that sends enriched metadata and unified context into every tool in the data stack.
As a result, you can continuously access and process all kinds of metadata, irrespective of tools.
Atlan is an active metadata platform designed to help you flow and collaborate effectively with your team without switching across apps.
Here's an example. You're going through a PowerBI report to analyze sales performance, and you notice a discrepancy in revenue numbers for a specific region. Atlan's Chrome extension provides a preview of the available metadata on the PowerBI report as context. This allows you to gain a deeper understanding of the issue, WITHOUT having to leave PowerBI.
As a result, you avoid pivoting into new applications or documents or getting involved in a constant back-and-forth with subject matter experts.
Active metadata can be leveraged for a wide range of applications, here's a video where you can explore 20 active metadata use cases in 20 minutes and see how it can help optimize costs, enrich the user experience, improve data discovery, and more.
---
Designed for organization-wide adoption
An intuitive, customizable UI/UX is crucial to drive data catalog adoption and help generate business value.
Given the diverse nature of data consumers and producers that exist in an enterprise, your data catalog must cater to all data types and users. Atlan enables this by letting you set up personalized experiences — based on the user role, data domain, or project type — for diverse data users in your team. Think of it as Netflix but for data.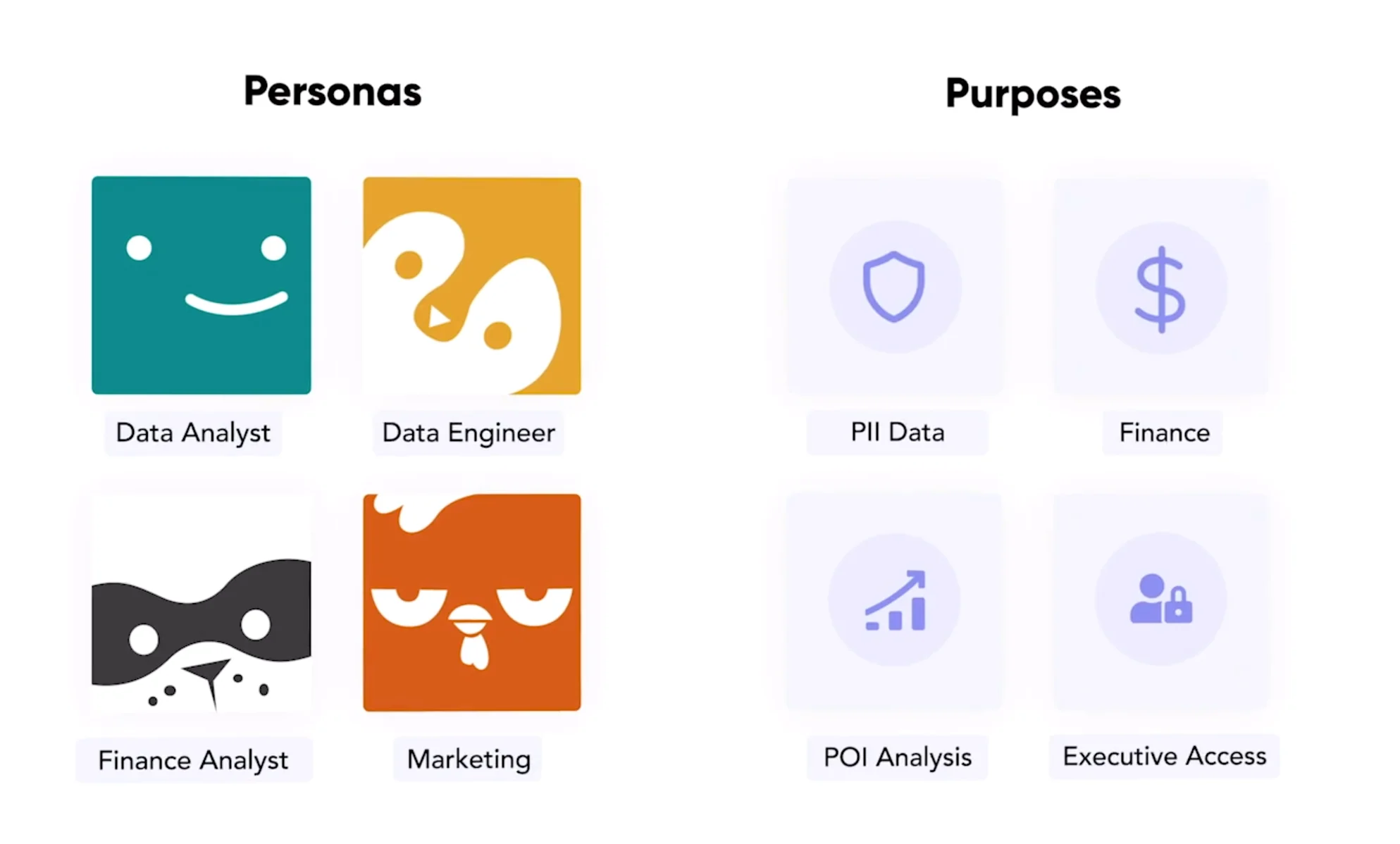 For Takashi Ueki, Director of Enterprise Data & Analytics at Elastic, Atlan's UI was a key deciding factor:
"If we're going to drive this program, it has to have a clean UI. It has to be something that people are going to want to use, and that's going to be easy to adopt. And it has to integrate with our current stack. When we looked at it from that perspective, Atlan was really the only one that truly hit all those forms."
Also, read → How Atlan powers data governance at Elastic
---
Powered by automation and generative AI
According to Benn Stancil, the CTO and Founder at Mode, Atlan AI is one of the earliest data products. Here's how he emphasizes the benefits of AI in data cataloging:
"A notorious problem with data catalogs (and probably any other sort of similar internal resource) is that someone has to author and maintain the catalog. It's a thankless task that few data teams have any desire to do, and is precisely the sort of job that interns are asked to grind through—and therefore, is also precisely the sort of task that's well-suited for an unfeeling, unsleeping, unpaid AI."
Atlan AI is the copilot for every human of data — be it data analysts, data scientists, data engineers, or business users. It aims to speed up and scale data documentation, discovery, querying, and more.
With an AI data catalog, you can automate several aspects of data preparation, insight generation, and insight explanation. This, in turn, saves costs, uncovers new opportunities at scale, reduces data chaos by ensuring data consistency across the data estate, and more.
---
Intuitive, interactive, and usable column-level lineage
Atlan lets you use APIs to bring in metadata from any data product and set up end-to-end column-level lineage across your data estate. This lineage is intuitive, interactive, and usable.
For instance, you can visualize the lineage in a smooth, intuitive, and interactive manner and understand how data flows through your apps and systems.
You can also drive action — built-in line actions allow you to raise tickets in JIRA, collaborate on Slack, and more.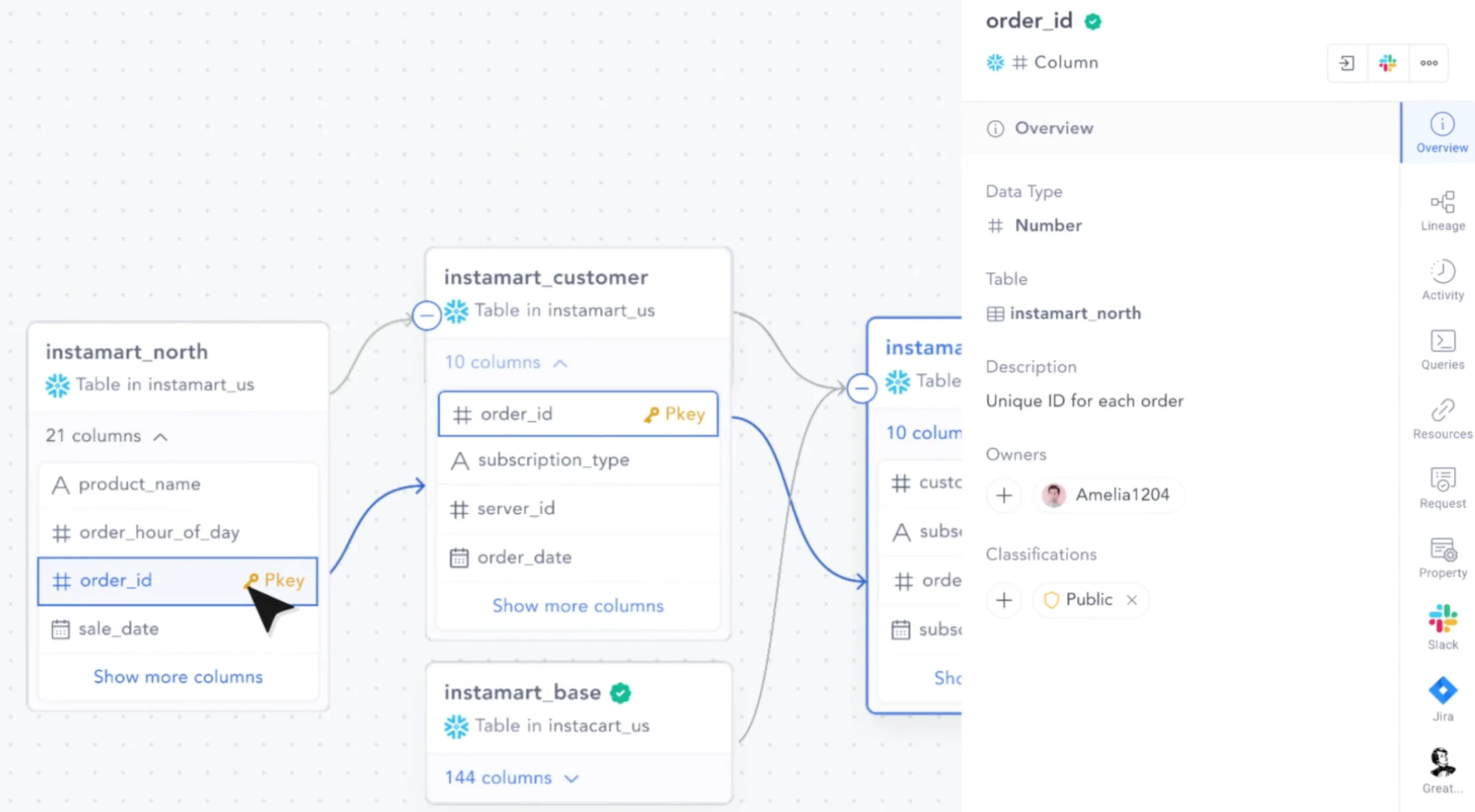 ---
Ensures proactive data governance
Data governance can be successful if it is a bottom-up, community-centered approach that's a part of everyone's daily workflow. It shouldn't be an afterthought, an extra step in your operations, or the responsibility of a select few.
With Atlan, data governance is proactive, adaptive, and scalable. The open API architecture lets you integrate it with popular modern data stack tools and set up an interoperable data ecosystem.
Everyone using Atlan can look up any data asset and review business definitions, descriptions, classifications, and more to get the full context. However, only those with the right access permissions can use or make changes to data.
For example, if someone without the right permissions wants to add a description or assign an owner to a data asset, they can make a request or offer a suggestion to the product team (i.e., the domain owner) via Slack. The domain owners can review the request and then decide to approve or reject it.
Also, read → How a fast-growing UK fintech improved GDPR compliance with Atlan in hours
---
DIY implementation and self-serve analytics
Many legacy software solutions can take more than 18 months to implement. After the initial setup, you spend more time connecting the solution to your entire data landscape and training your employees.
With Atlan, the setup process is DIY and doesn't involve coding. You can connect all your sources in three steps and then monitor them through activity logs and automated Slack alerts.
Most customers can get Atlan up and running anywhere between 40 minutes to a week. They also start seeing value within the first few weeks of setup.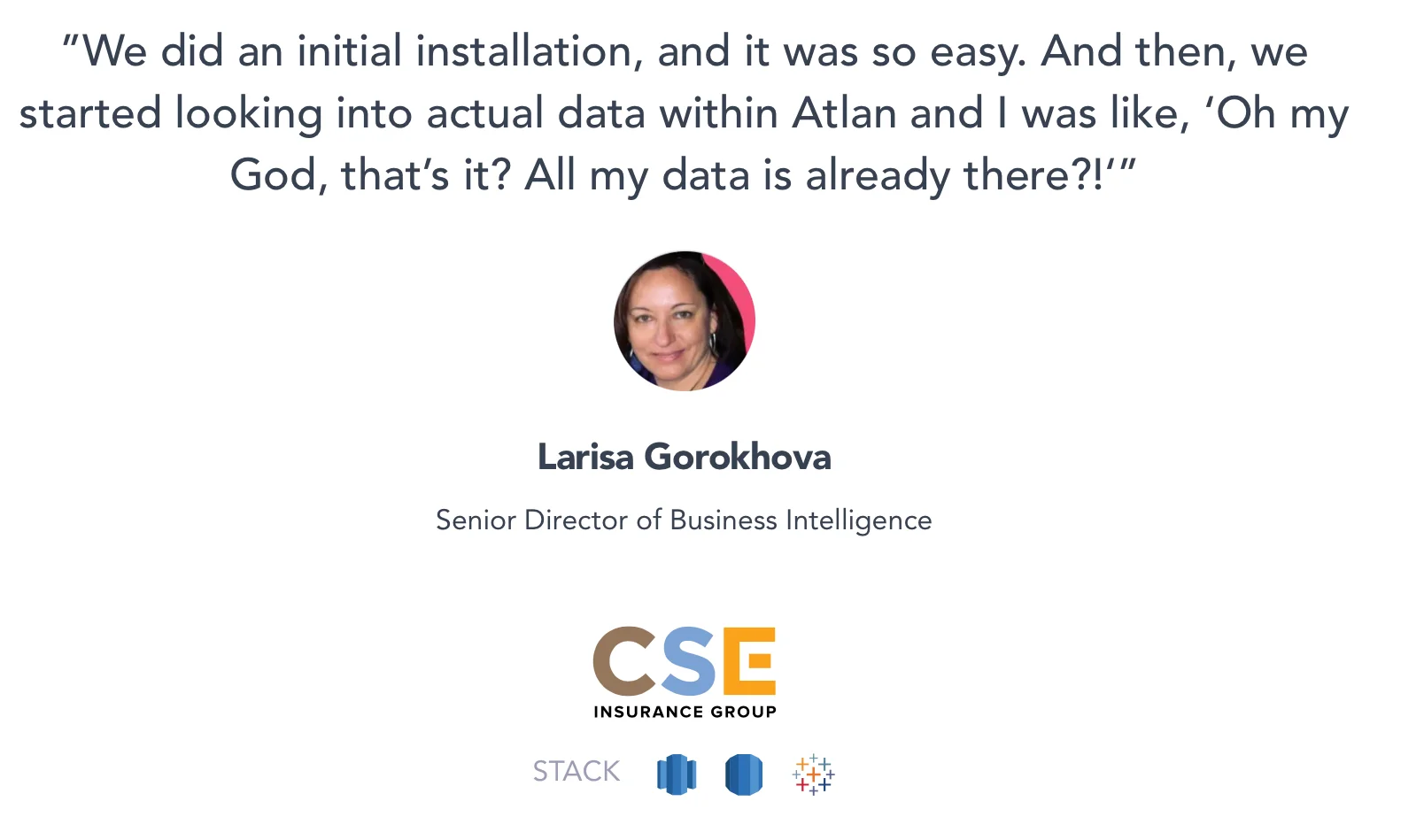 For Daniel Chon, Director of Business Intelligence at Infillion, the DIY approach also applied to querying and reducing engineering dependencies:
"Whenever we get a request for a report, we'll just set up the scheduled query in Atlan ourselves. It's allowed us to fully automate reporting without any engineering resources and become self-sufficient. When I put in a request to the data engineers, it would take a week to get it into their sprint, and then it would take another week or two to actually produce it. So a three-week waiting period is just not scalable. So this definitely cut that down to half an hour, maybe less, to set up."
Also, read → How Infillion raises the bar for data consumers with Atlan scheduled queries
---
Open-by-default architecture
As your data landscape evolves and expands, APIs provide the foundation for building an interoperable ecosystem with new tools, technologies, and data platforms.
Atlan's open API architecture lets you do exactly that. Atlan's open API architecture makes it extensible, and capable of connecting your favorite data warehouses, transformation engines, and BI and collaboration tools.
Atlan has also partnered with the top modern data stack tools to offer native connectivity.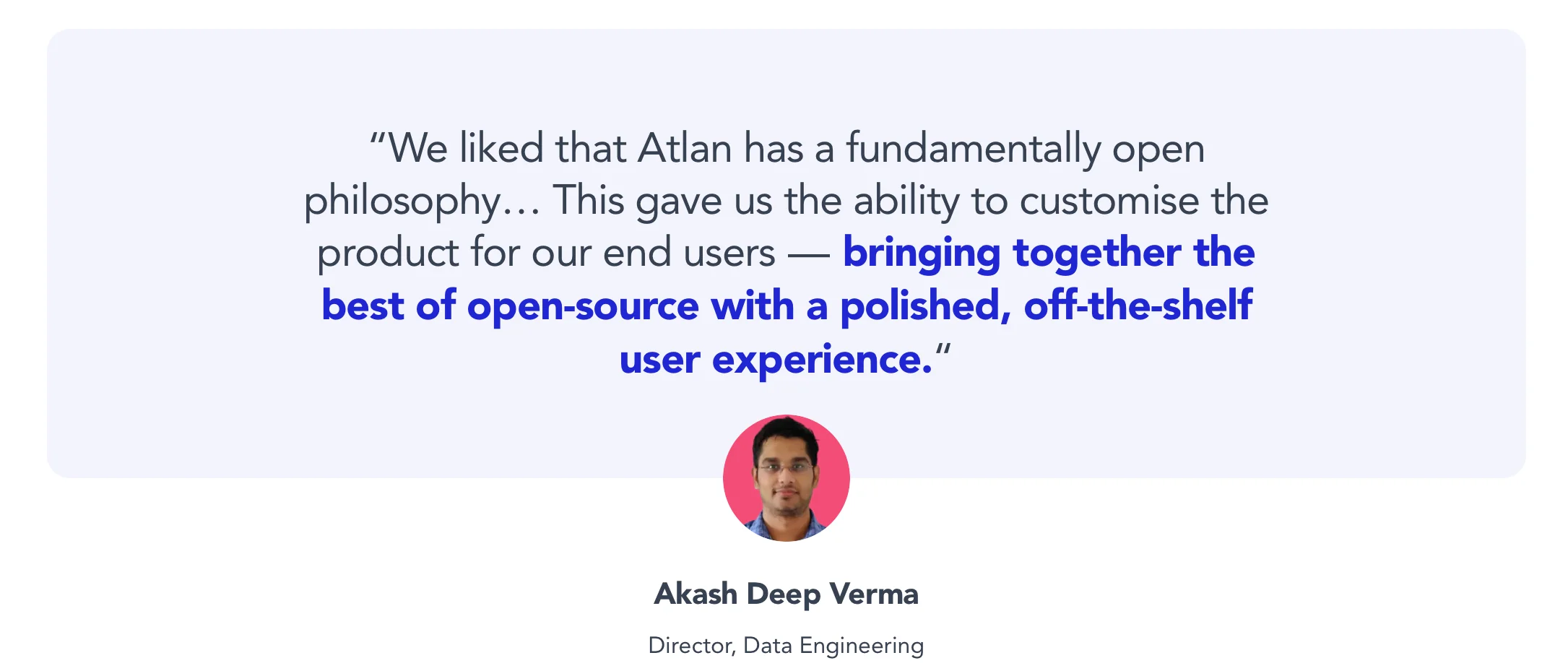 ---
Partner, not vendor
A data catalog is valuable only when it generates ROI and is a part of your team's daily workflows. Having started out as a data team and dealt with data problems, Atlan understands your challenges firsthand.
Atlan is built by data teams, for data teams. So Atlan ensures to:
Partner with you to help you identify and implement business-critical data initiatives
Provide continuous training and development to drive data catalog adoption
Atlan also invests in your success with a strategic customer success team and data enablement and adoption initiatives, such as DataOps leadership programs, customer-led masterclasses, and community-led best practices.
---
Summing up
Ultimately, a data catalog should help everyone in your organization discover, understand, and use data. Michael Weiss, Product Manager at Nasdaq, calls Atlan a Google for data:
"Power users, who spend six or more hours per week on data, spent two of those hours trying to understand the context around what they already have access to. A third of their time every week is spent just trying to understand what is there. Atlan helps reduce that effort and really enables them to get right to the heart of the problem — to drive data products from insights into the business. It has enabled our users to really understand what's in our lakes and warehouses already, and then start asking the right questions."
So, if you're looking for a data catalog for your organization — get hands-on with Atlan and see how it transforms your experience with data.
We're working with some of the best data teams in the world, such as Nasdaq, Elastic, Docker, Juniper, WeWork, Postman, and Ralph Lauren — to name a few. Check out what our customers have to say about us here.
---
Atlan Alteratives: Related Reads
---