The Forrester Wave™: Enterprise Data Catalog for DataOps, Q2 2022
Updated August 23rd, 2023

The Forrester Wave™: Enterprise Data Catalog for DataOps, Q2 2022 is a guide for data leaders and practitioners to help consider and evaluate data catalogs for their organizations.
The Forrester Wave™ assessment evaluated the 14 most prominent enterprise data catalogs including Atlan, Alation, Collibra, data.world, Informatica, and Talend, on 26 evaluation criteria.
Atlan received the highest score possible in 17 out of 26 criteria.
---
---
Forrester Wave: Evaluation overview
Each of the 14 enterprise data catalog providers under evaluation was ranked, positioned, and scored based on:
Current offering
Strategy
Market presence
Current offering
The Y-axis represents the strength — weaker to stronger — of the current product offering of each solution provider. The evaluation parameters include criteria such as cataloging; data intelligence; data governance, DataOps, and engineering; connectivity, interoperability & portability; and data as a service.
Strategy
The X-axis represents the strength of their strategies. This includes product vision, market approach, performance, planned enhancements, innovation roadmap, and partner ecosystem.
Market presence
The size of the circle represents market presence. This includes revenue, number of customers, and average deal size. A gray bubble or open dot represents a non-participating solution provider.
---
Forrester Wave Enterprise Data Catalogs: Key evaluation criteria
Current offering
Forrester assigns 50% of the ranking weightage to important product capabilities that are a must-have in an enterprise data cataloging solution. These capabilities include:
Data and metadata management
Types of data products supported — sources, tables, pipelines, policies, data models, etc
Data discovery, profiling, and data lineage — impact and root cause analysis, and anomaly detection
Monitoring, alerts, and compliance
User experience — personalization and collaboration
Ease of development and deployment
Advanced support — testing, anomaly detection, and machine learning support
Risk management — enabling data protection, privacy, and regulatory policies
DevOps — customizability, and extensibility via APIs
Cloud and data fabric connectors
Integrations with BI, analytics, and data science tools
Data orchestration
Data quality and data lifecycle management
Strategy
Forrester assigns another 50% of the ranking weightage to evaluate the enterprise data catalog product strategy. This includes:
Product vision — vision alignment with the current and future needs of customers
Market approach — proven go-to-market strategy with support for new verticals and geographies
Performance — vital business metrics like revenue growth and profitability
Planned enhancements — to support changing customer needs
Innovation roadmap — a proven commitment to future innovation
Market presence
Unlike the "current offering" and "strategy", Forrester does not assign any ranking weightage to evaluate marketing presence. The key evaluation criteria include:
Revenue growth
Number of active customers
Average deal size
This report serves as a guide for data leaders and practitioners to consider, evaluate and choose the right data catalog for their DataOps environment.
---
Atlan, a Leader in Enterprise Data Catalogs
Atlan is recognized as a Leader in The Forrester Wave: Enterprise Data Catalogs for DataOps, Q2 2022 report.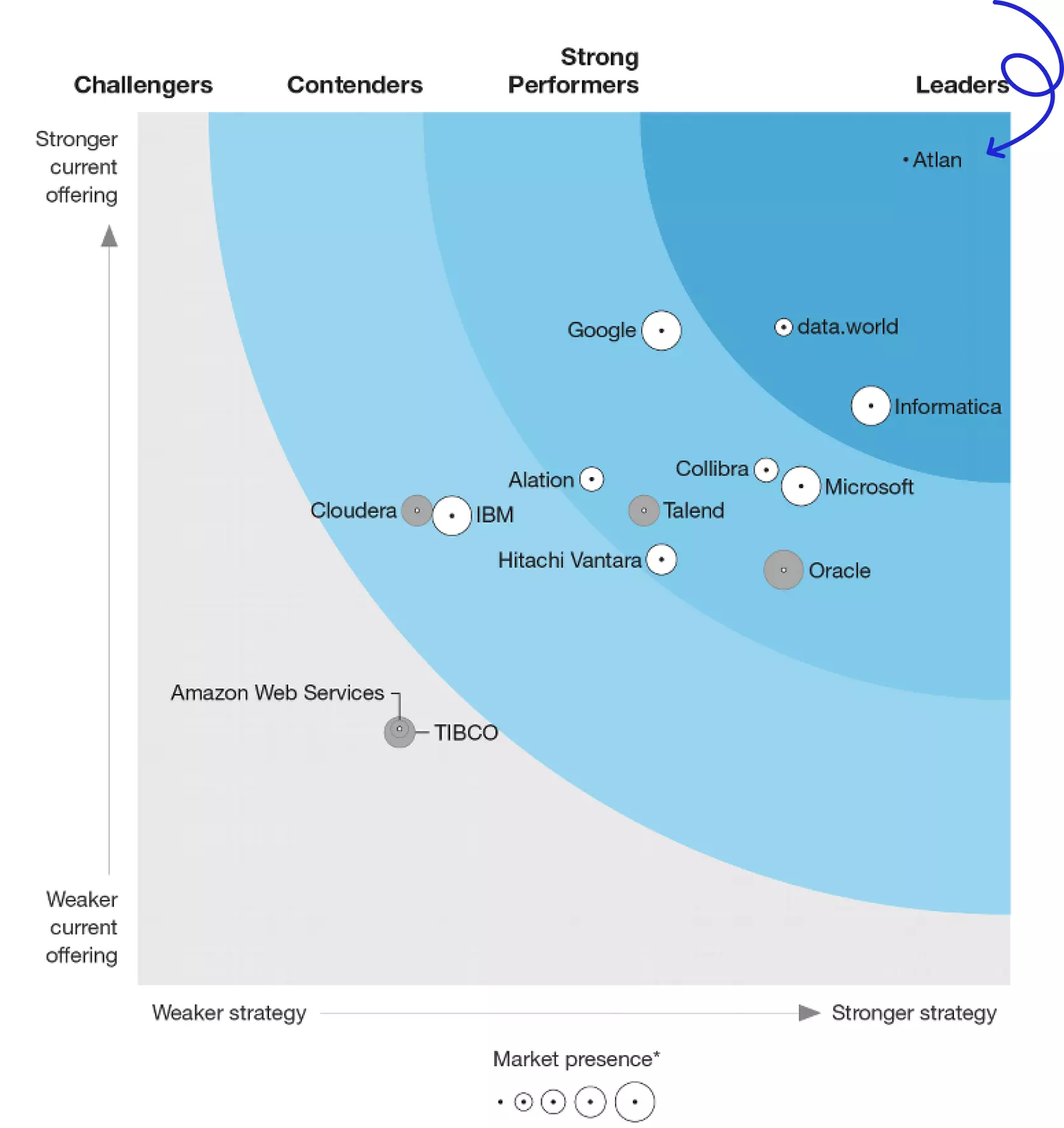 Atlan received the highest score possible in 17 criteria, including Product Vision, Market Approach, Innovation Roadmap, Performance, Connectivity, Interoperability, and Portability.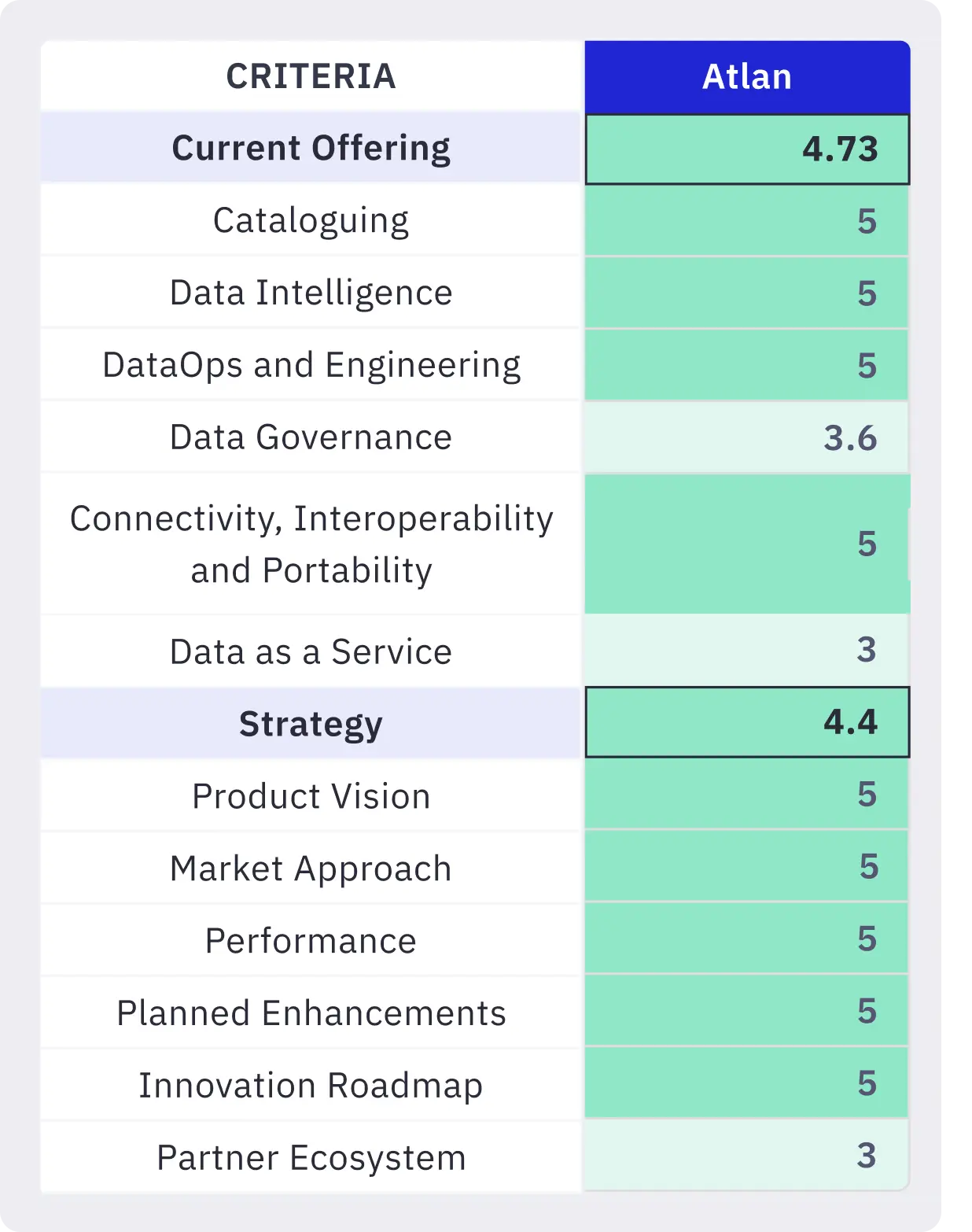 According to the Forrester report, "Atlan is the tool of choice for DataOps and data product deployment." Forrester also goes on to state that Atlan's, "extensive integration makes data sharing easy, flexible, and scalable within hybrid distributed ecosystems for analytics and operational use cases."
If you are evaluating an enterprise data catalog for your organization, take Atlan for a spin. Atlan is a third-generation data catalog and metadata management tool built on the premise of embedded collaboration that is key in today's modern workplace, borrowing principles from GitHub, Figma, Slack, Notion, Superhuman, and other modern tools that are commonplace today.
---
Atlan Demo: Enterprise data catalog for DataOps
---
The Forrester Wave™: Enterprise Data Catalog for DataOps, Q2 2022: Related reads
---