Gartner Data Catalog Research Guide: How To Read Market Guide, Magic Quadrant, and Peer Reviews
Updated August 24th, 2023

---
Quick answer:
Here's a 2-minute summary of this article that captures Gartner's key insights on what to look for in a data catalog:
Key to understanding what Gartner thinks about data catalogs are two resources:

Their research on Augmented Data Catalogs
Their Market Guide for Active Metadata Management

Gartner emphasizes that modern data catalogs should:

Automate the process of data discovery and governance
Provide open APIs to facilitate the flow of metadata across tools
Support various types of metadata
Be user-friendly for non-technical users

Trying to make a list of best-in-class data catalogs? Make sure to include Atlan. We align perfectly with all the above benchmarks and then some. Talk to us or take a guided product tour.
---
How does Gartner help you pick the right data catalog for your enterprise?
Gartner is a technological market research company that provides research insights, tools, consulting, and guidance that enables organizations to make faster and better technology decisions.
Gartner leverages its research mainly through two mediums: Research publication and tools
These include: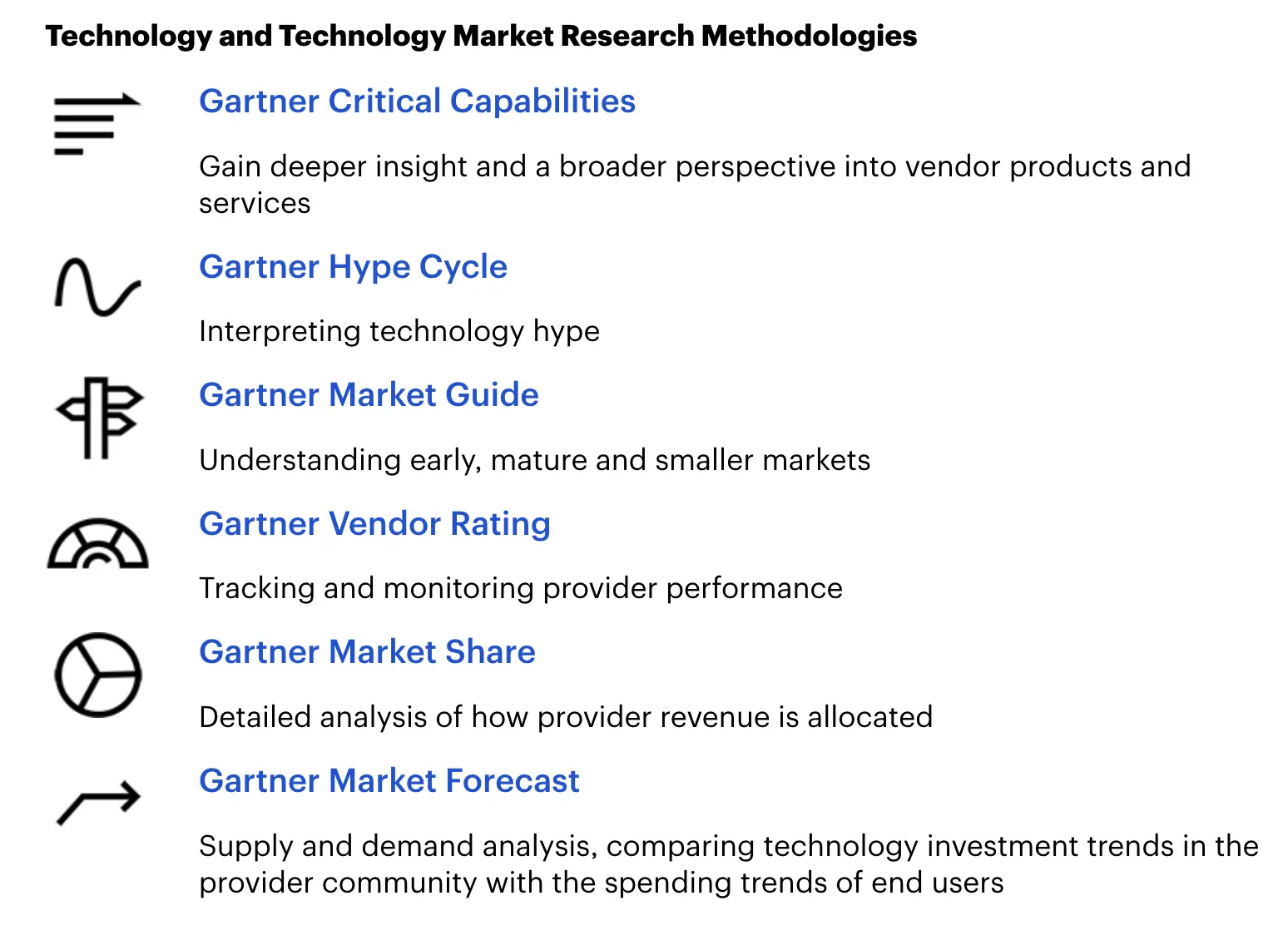 ---
Table of Contents
---
Modern data problems require modern solutions - Try Atlan, the data catalog of choice for forward-looking data teams! 👉 Book your demo today
---
Gartner Market Guide for data catalogs
Gartner Market Guide helps one understand the risks and benefits associated with emerging trends and markets. The guide helps you to answer questions like: "What would we miss if we don't invest in the data catalog tools and technology now?", "What are the data catalog capabilities that are pushing forward this trend and what are the vendor offerings from this market?".
Quoting Gartner:
When new markets emerge and the offerings and user requirements are in flux, solutions are often difficult to compare, making a competitive positioning less useful. Or, when a market matures to the point that the offerings become fairly interchangeable, comparative positioning is less important than an analysis of and recommendations about the market itself. In these scenarios, a Gartner Market Guide can provide the right insight.
We'll explore two Gartner Market Guides that will help you explore more about data catalogs
Augmented Data Catalogs: Now an Enterprise Must-Have for Data and Analytics Leaders
Market Guide for Active Metadata Management
---
Gartner Market Guide: Augmented Data Catalogs
The sheer growth in not just the volume of data collected but also the different types, formats, sources, and deployment methods makes it immensely challenging for data teams to discover and understand data. As we move from passive metadata to active metadata management the challenge to differentiate between traditional and new-generation data catalogs is becoming increasingly difficult. This Gartner data catalog evaluation guide helps you to connect present offerings to your future requirements.
Augmented Data Catalog: The research categories
Market Definition
Market direction
Market analysis
Vendor profiles
Market recommendations
Data catalog evaluation: Gartner recommendation for data leaders
The advent of ML-augmented data catalogs helps intelligently automate the process of data discovery, search, recommendations, profiling, quality, and governance tagging.
Data leaders must match use cases/requirements to not just traditional data catalog capabilities but also to take full advantage of broader metadata management capabilities across multi-cloud and other tools of the modern data stack.
Modern data catalogs must inventory all forms of metadata: Technical, operational, business, governance, and social metadata.
Easy-to-use data catalog interface for non-technical business users.
Open APIs allow the free flow of metadata across all collaboration tools that make search and discovery ever easier and more efficient.
Find the Gartner Augmented Data Catalogs report here >
---
Key components of an Augmented Data Catalog
Data Discovery
Modern data catalogs provide out-of-the-box single-click connectors to crawl, scan and extract metadata from the most commonly used data sources. Modern data catalogs leverage on open API to collect metadata not just from the data sources but also from data ingestion, orchestration, ETL, and data quality workflows. ML-powered data catalogs provide a powerful search experience that helps find relevant data assets faster with better accuracy.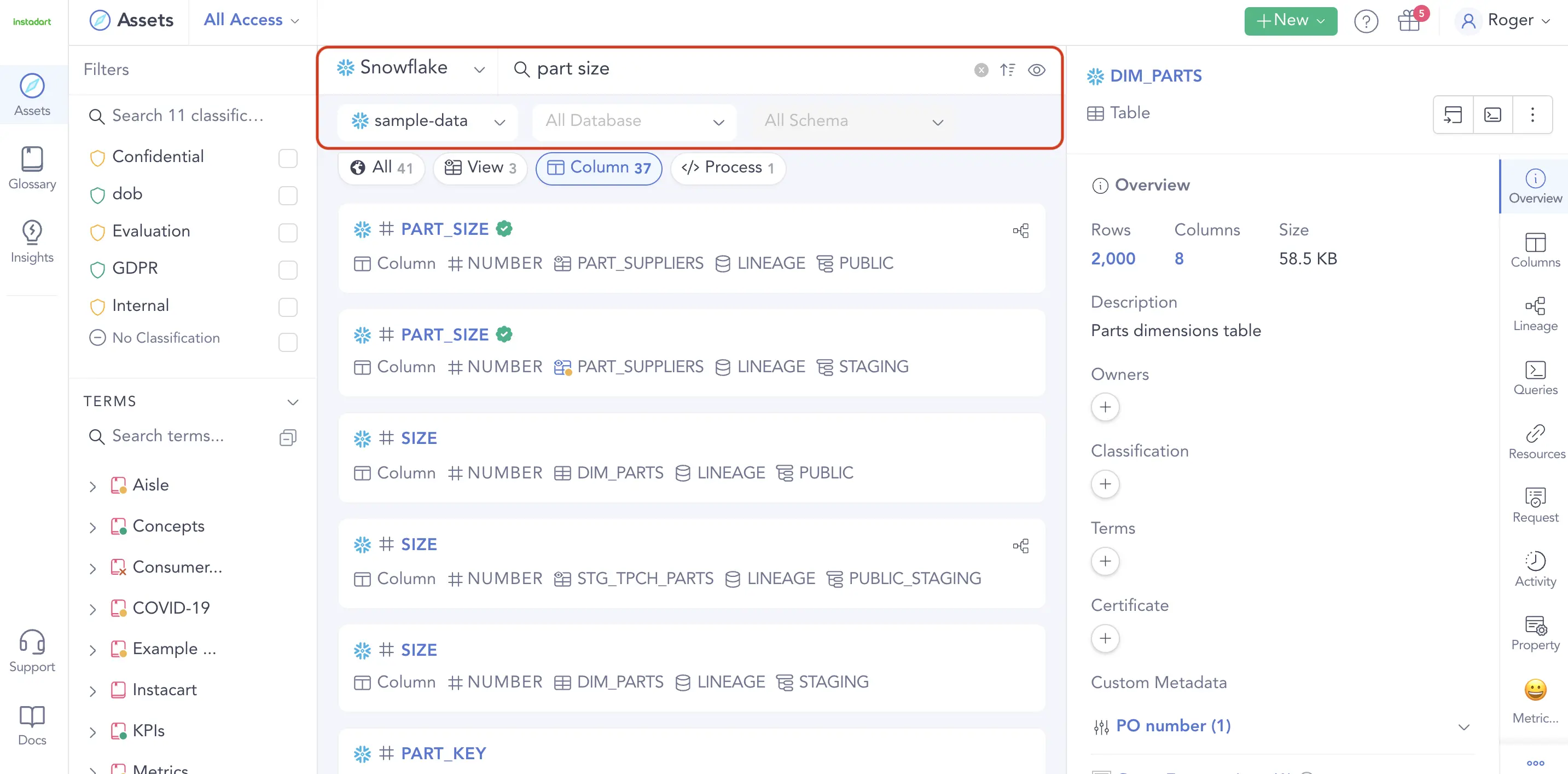 Trust your data
Data catalogs provide built-in data profiling and data quality reports that give you a quick snapshot of a data asset. ML-based catalogs automatically tag and annotate metadata for better transparency. Business glossaries and data dictionaries help you with maintaining living and breathing documentation for all your data.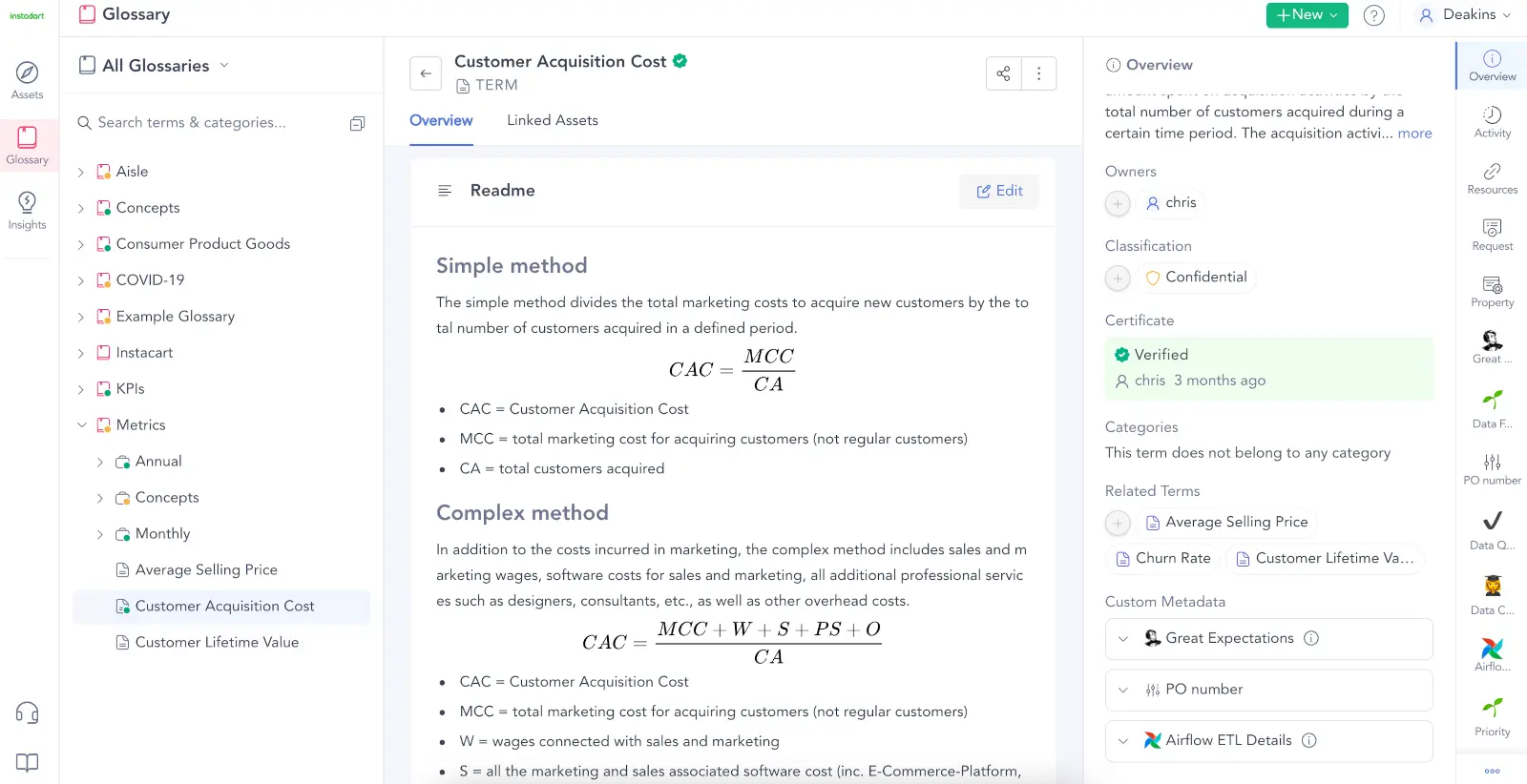 Data collaboration
Modern data catalogs provide embedded collaboration that enables all data users to assign trust scores, ratings, and notes, and also start conversations around a particular data asset.
Data catalogs measure data usage statistics and help surface the most popular and most used data assets during a search.

Governance
Data catalogs help track the journey of your data across the lifecycle through data lineage. Data catalogs also facilitate data governance by auto-tagging PII and other sensitive data, this helps businesses to be compliant with regulations like GDPR, CCPA, and HIPAA.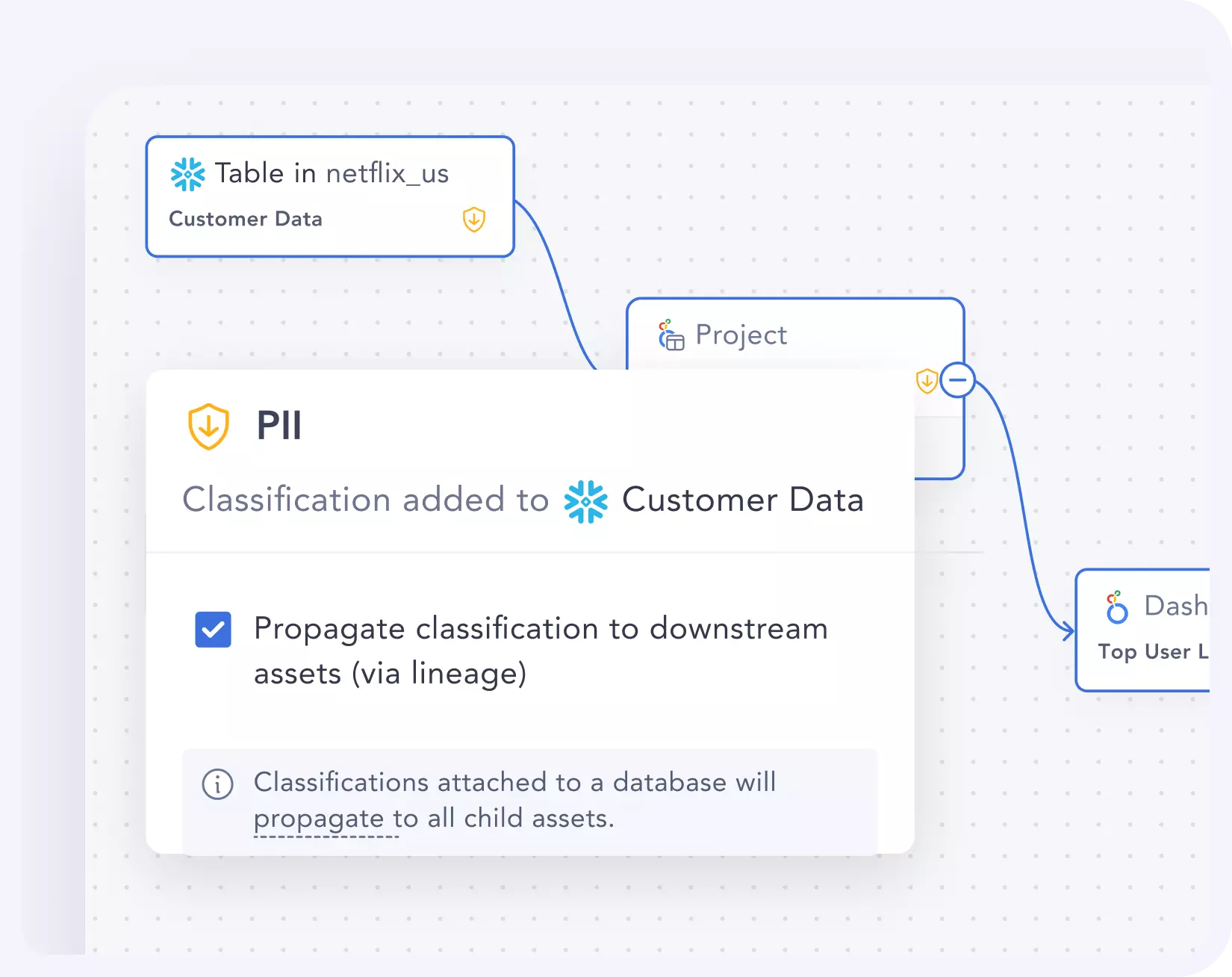 ---
Data Catalog 3.0: The Modern Data Stack, Active Metadata, and DataOps
---
Gartner Market Guide: Active Metadata Management
In July 2021, Gartner released the Market Guide for Active Metadata to shine a light on key changes in the evolving Metadata Management solutions market. The important reason is that the traditional metadata management solutions were:
Passive: They were tools just to collect and catalog metadata. They could not drive actions based on the metadata.
Limiting: The definition and scope of metadata are ever-expanding. Traditional metadata management tools fail to accommodate these new possibilities and use cases — Automation and machine learning.
Closed: Metadata exists in silos. They do not fully leverage the possibilities of open APIs that help automate sourcing data from multiple data sources.
Quoting Gartner:
Active metadata management is an emerging set of capabilities across multiple data management markets resulting from continuous metadata management innovation. Data and analytics leaders must consider the market evolution as transformational in all data-enabling technologies.
---
Gartner recommendations for Active Metadata Management
Gartner's report states, "openness is becoming mandatory". Existing metadata standards are closed and create data silos. Modern metadata management should be built on open standards so that analysts can take full advantage of the increase in the scope of metadata utility.
Modern metadata management solutions solve uses cases well beyond data catalog and lineage, it helps automate workflows and provides intelligent recommendations to optimize workflows, data quality, orchestration, and cost saving.
Unifying metadata opens up possibilities for effective collaboration. Crowdsourcing capabilities like ratings, chats, certificates, and tagging help teams move toward data democratization.
Gartner Active Metadata Management vendor evaluation
Gartner in this report has a representative list of vendors who provide active metadata management and data cataloging capabilities. Some of the vendors include:
AWS Glue
Azure Purview
Atlan
Google data catalog (now Dataplex)
Oracle Enterprise Metadata Management (OEMM)
IBM Watson data catalog
Find the Gartner Active Metadata Management report here >
---
A Guide to Building a Business Case for a Data Catalog
---
Gartner Magic Quadrant for data catalogs
Gartner Magic Quadrant is a proprietary market research methodology that helps compare and contrast tools and technology providers. The magic quadrant evaluates and places the tools in 4 quadrants namely: Challengers, Leaders, Niche Players, and Visionaries.
At present, Gartner does not have a magic quadrant for data catalogs. Gartner published Magic Quadrant for Metadata Management Solutions until 2020. In July 2021 Gartner scrapped this and published a report on Active Metadata Management.
Magic Quadrants related to data catalogs
---
Gartner Hype Cycle
Quoting Gartner,
Gartner Hype Cycles provide a graphic representation of the maturity and adoption of technologies and applications, and how they are potentially relevant to solving real business problems and exploiting new opportunities.
The hype cycle, in essence, is a graphical representation of "expectation" of technology, trend, concept, and methodologies plotted against "time". The plot is divided into 5 phases: Innovation trigger, the peak of inflated expectation, a trough of disillusionment, the slope of enlightenment, and the plateau of productivity.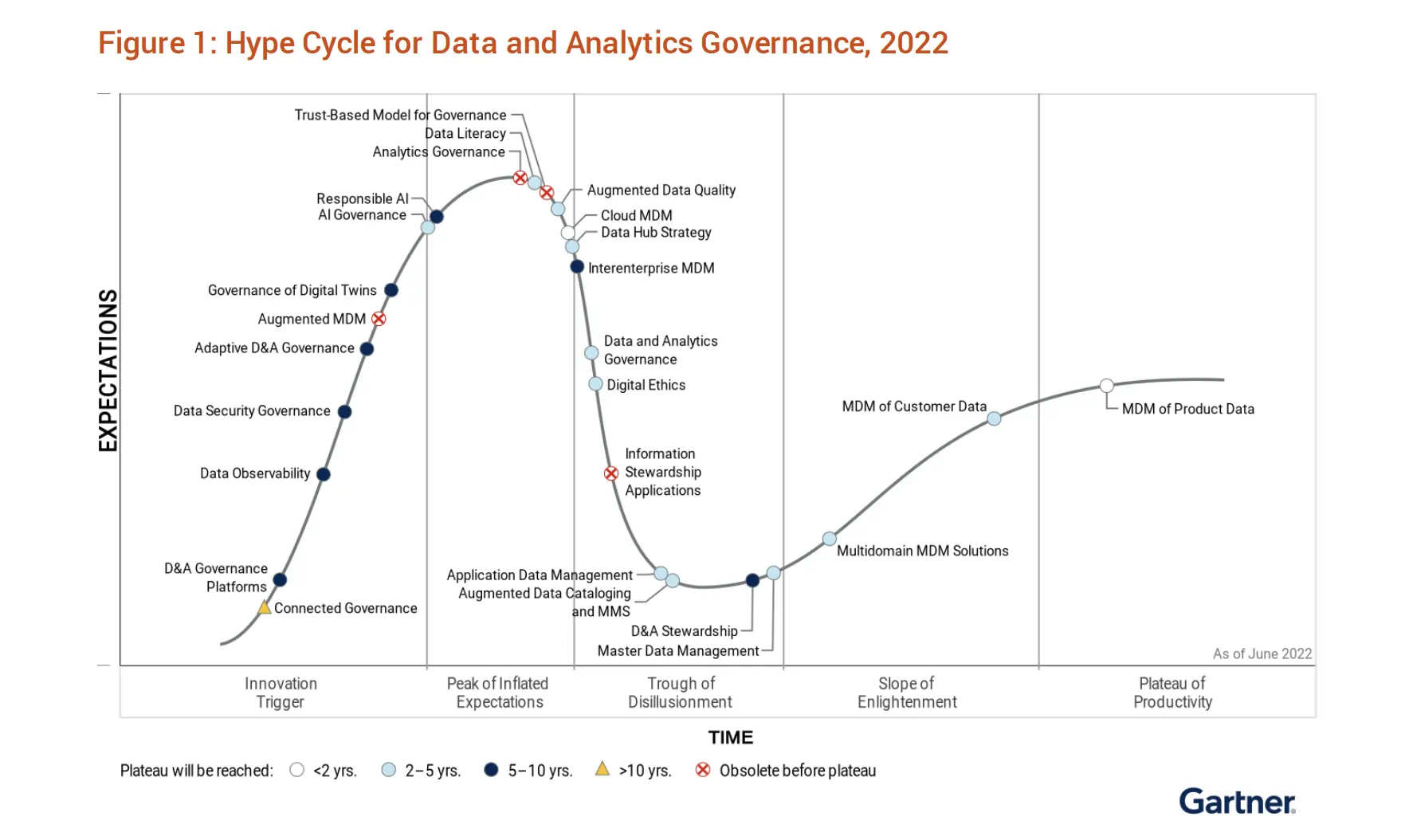 Hype Cycles related to Active Metadata Management and Augmented Data Catalogs
---
Gartner Hype Cycles
---
Gartner Peer Insights
Gartner Peer Insights is a platform that collects reviews of popular software and technology services from its users/practitioners. The Gartner Peer Review covers more than 400 categories of software services, spanning across 18000 products, and a total of 450000 reviews.
If you want to understand more about the data catalog space, the key players, the capabilities, and peer reviews do check out Gartner Metadata Management(EMM) Solutions Reviews and Ratings.
You can search through the platform using various criteria like geography, business size, total revenue, industry, and ratings. The platform also allows you to compare products to ascertain the key differences.
---
Atlan: The modern data catalog
Atlan has been included in the representative Data catalog vendors list in the following research study:
Hype Cycle for Data Management
Hype Cycle for Emerging Technologies
Hype Cycle for Enterprise Information Management
If you are looking for a data catalog for your data analytics team — you might want to check out Atlan.
Atlan was also named a leader in the latest Forrester report on Enterprise Data Catalog for DataOps and received the highest possible score in 17 evaluation criteria including Product Vision, Market Approach, Innovation Roadmap, Performance, Connectivity, Interoperability, and Portability.
---
Gartner data catalog: Related reports
---