Forrester Wave™ Data Governance Solutions: What Is It and How Does It Work?
Updated November 24th, 2023
The Forrester Wave™ for Data Governance is a report that examines data governance solution providers using extensive evaluation criteria. The goal of the report is to help data governance professionals select the right solution for their needs.
---
Want to make data governance a business priority? We can help you craft a plan that's too good to ignore! 👉 Talk to us
---
In this article, we'll explore the structure, contents, key evaluation criteria, and process used in crafting the Forrester Wave™ reports for data governance.
---
Table of contents
---
What is the Forrester Wave™ for data governance?
The Forrester Wave™ for data governance solutions is a graphical representation of Forrester's call on vendors in the data governance solutions landscape.
It is a guide that follows The Forrester Wave™ Methodology to help in shortlisting options in the data governance marketplace.
The Forrester Wave results are depicted in a color-coded research graphic that classifies a vendor as a Leader, Strong Performer, Contender, or Challenger (previously known as a Risky Bet).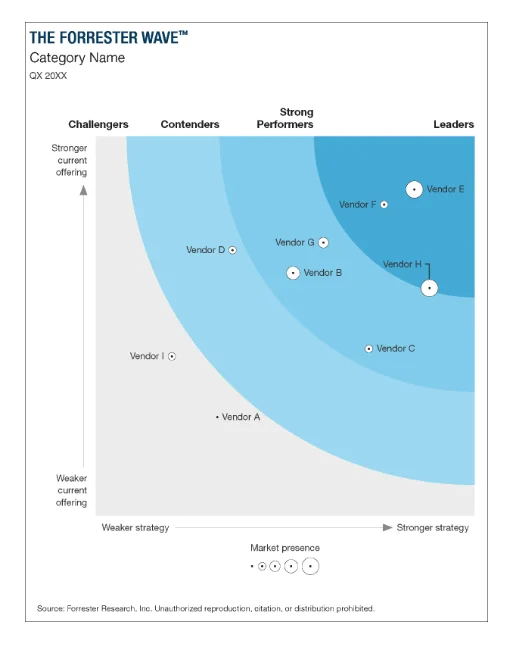 The most recent Forrester Wave report for data governance is the Forrester Wave™: Data Governance Solutions, Q3 2023 — a 29-criterion evaluation guide of data governance solutions for data leaders and practitioners.
It's important to note that Forrester Research doesn't endorse any vendor, product, or service included in the Forrester Wave reports. The best way to interpret these reports is to see them as a starting point for evaluating existing solutions.
Forrester Wave: A brief history
Forrester Research introduced the Forrester Wave™ in 2002 to evaluate and categorize companies based on their offerings, strategy, and market presence. The aim is to help you assess the landscape and understand vendor offerings in a standardized fashion.
Here's how George F. Colony, founder, chairman, and CEO of Forrester Research, describes the Forrester Wave reports:
"Forrester's value proposition is built on telling it like it is. We make the tough call on markets, technologies, and vendors — our integrity and firm objectivity yield the highest value research and strategy for our clients. The Forrester Wave is a new language for communicating those calls to our clients in a consistent, clear, and fast way."
Forrester on data governance and its future: An overview
Forrester sees data governance as a function that enforces the boundaries within which "an organization seeks to maximize performance."
Forrester notes that data governance maturity in companies has been rising:
According to Forrester's Data and Analytics Survey 2022, 21% of data and analytics leaders have clearly defined their data governance program with documentation
According to Forrester's Data and Analytics Survey 2023, 56% have a centralized data governance team for the entire organization
The same 2023 survey also states that 73% plan to increase spending on data governance solutions
Also read → Forrester on Data Governance: A Comprehensive Guide
The rising maturity has fueled interest in using generative AI and automation for activities specific to data governance. According to Raluca Alexandru, Analyst at Forrester, these include six prominent use cases:
Automated data classification and tagging
AI-infused search functionalities
Data quality and anomaly detection
Predictive analytics
Natural language processing for data governance documentation
Automated data privacy and compliance management
📽️ Also watch → A masterclass on the future of data governance, featuring Raluca Alexandru, Analyst at Forrester
---
What is the structure of the Forrester Wave report for data governance?
The report includes:
A summary of the data governance solutions landscape and its evolving trends
An evaluation summary for data governance solutions in the market
The scorecard for prominent tools
Vendor offerings, profiles, strengths, and weaknesses
Vendor inclusion criteria
---
Forrester Wave™: What is the evaluation process for data governance solutions?
As mentioned earlier, Forrester follows the Forrester Wave™ Methodology to evaluate vendors in the data governance market. This involves:
Conducting preliminary research to develop a list of vendors to consider for the evaluation
Eliminating solutions that don't meet Forrester's inclusion criteria
Gathering details of the vendor's product capabilities, strategy, etc. through a detailed questionnaire, demos/briefings, and customer reference surveys/interviews
Using the gathered insights to measure each vendor's performance via a relative rating system outlined by the Forrester Wave™ Methodology
Forrester also asks the vendors to verify the accuracy of their findings before publishing the report.
---
Forrester Wave for Data Governance: Evaluation overview
Existing data governance solution providers are evaluated based on:
Current offering: Gauges solution attributes such as cataloging, data governance, DataOps, connectivity, interoperability, etc. (Y-axis)
Strategy: Evaluates factors such as the vendor's product vision, market approach, performance, planned enhancements, innovation roadmap, and partner ecosystem (X-axis)
Market presence: Circles of varying sizes that are illustrated after considering factors such as revenue, number of customers, and average deal size
A gray bubble or open dot represents a non-participating solution provider — a vendor that met Forrester's inclusion criteria but declined to participate in the process or contributed only partially to the evaluation.
Unlike the "current offering" and "strategy", Forrester does not assign any ranking weightage to evaluate marketing presence. So, rankings are decided based on the first two evaluation criteria listed above.
---
Forrester Wave for Data Governance: The four categories of solution providers
As mentioned earlier, the Forrester Wave™ evaluation highlights Leaders, Strong Performers, Contenders, and Challengers:
Leaders: Vendors with a strong product and strategy
Strong performers: Vendors with medium-high scores on both the product and strategy dimensions
Contenders: Vendors with credible products and strategies, however, they lag behind Leaders and Strong Performers
Challengers: Vendors who stand out in only one of the dimensions — for instance, a strong current offering but a weak strategy for the future, or a great strategy but without a product to match
Note: The Forrester Wave reports assess some of the existing vendors and don't represent the entire vendor landscape.
---
What's next?
If you found our article on the Forrester Wave guide for data governance solutions useful, then check out our comprehensive take on The Forrester Wave™: Enterprise Data Catalog for DataOps, Q2 2022. The report recognizes Atlan as a leader in enterprise data catalogs.
"Atlan is the tool of choice for DataOps and data product deployment. Atlan's extensive integration makes data sharing easy, flexible, and scalable within hybrid distributed ecosystems for analytics and operational use cases."
Download → Forrester Wave™: Enterprise Data Catalog for DataOps, Q2 2022
---
Forrester Wave™ Data Governance Solutions: Related reads
---