Gartner Magic Quadrant for Metadata Management: What Changed?
Last updated on: July 15th, 2023, Published on: July 15th, 2023

In the realm of data management, a revolution is afoot. The arena once dominated by traditional metadata management is now yielding to a dynamic and proactive successor: active metadata.
This paradigm shift is recognized by none other than Gartner, a globally recognized research and advisory firm. Their recent move away from the Magic Quadrant for Metadata Management Solutions to a Market Guide for Active Metadata underlines this shift.
Let us unpack the nuances of this change, and delve into why Gartner has made this shift. We will also explore ways you can lead the charge in the adoption and implementation of active metadata management.
---
Table of contents
---
Gartner Magic Quadrant for Metadata Management Solutions: What has changed and why?
Gartner, long recognized as an arbiter of technology trends, previously employed the Magic Quadrant for Metadata Management Solutions to evaluate and compare various offerings in the field.
This model served as a guidepost for organizations navigating their metadata management journey. It focused on the management of metadata, tracking what data existed and where, and enabling organizations to catalog, manage, and utilize their data effectively.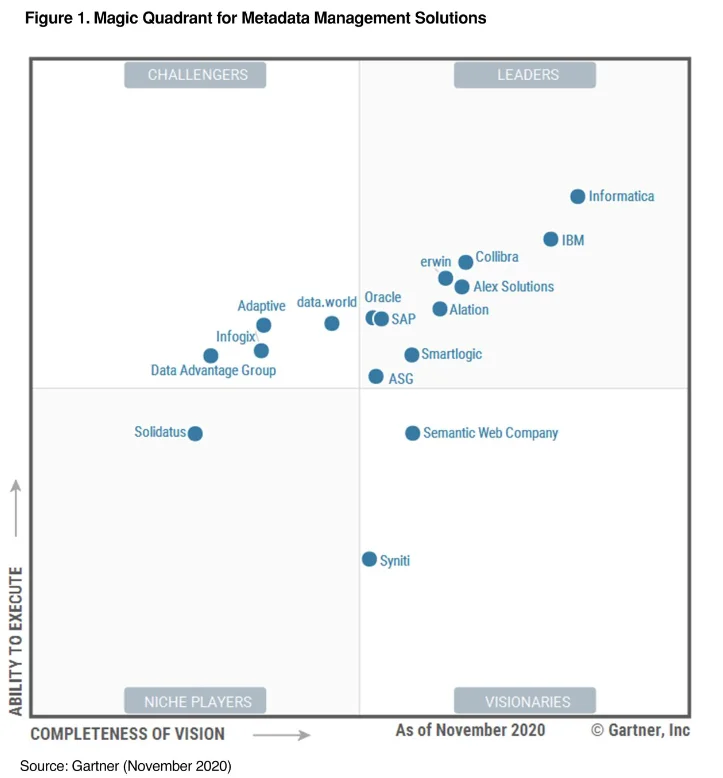 However, Gartner has since recalibrated their approach, acknowledging the evolving landscape of data management. As a result, they've scrapped the former Magic Quadrant for Metadata Management and replaced it with a fresh focus on active metadata.
Read more → Activating metadata to enable DataOps
This shift signals a recognition of the growing importance of understanding and mapping data flow throughout an organization's data estate and making it actionable. That's why active metadata is now an integral part of tools like data catalogs, providing real-time insights into how people use data within an organization.
The new Market Guide for Active Metadata Management elevates the conversation from simple metadata management to the active tracking of data usage. It demonstrates Gartner's commitment to keeping pace with the increasingly dynamic nature of data management.
Also, read → 101 guide to active metadata management
An overview of Gartner's shift to active metadata management
As per Gartner, active metadata management is "a set of capabilities that enables continuous access and processing of metadata that support ongoing analysis over a different spectrum of maturity, use cases, and vendor solutions."
This focus indicates a transition from static, passive metadata management tools towards more dynamic, actively-engaging offerings.
The primary catalyst for this change is Gartner's view that metadata management, as a standalone offering, is increasingly becoming irrelevant. The passive and static nature of traditional metadata management tools meant that they were often underused and failed to provide the dynamic insights necessary for contemporary data-driven decision-making processes.
With the rapid changes in data generation, processing, and utilization, these traditional tools struggled to keep pace.
That led Gartner to stipulate that active metadata capabilities should be integral to modern data tools like data catalogs, rather than being treated as separate components.
In other words, Gartner envisions a seamless integration of metadata management into broader data management strategies, facilitating continuous, real-time access to and analysis of metadata.
This shift towards active metadata signifies Gartner's acknowledgment of the changing data landscape and the need for data management tools to evolve accordingly.
---
Gartner's take on active metadata
Gartner's recommendations for active metadata management emphasize several elements, including:
Openness
Artificial intelligence and machine learning
Automation
Workflow optimization
Collaboration
Let's explore each element further.
Openness
Openness is needed to break down data silos and promote greater metadata utility. Openness is no longer optional, says Gartner; it is mandatory.
Artificial intelligence (AI) and machine learning (ML)
Gartner highlights that advanced techniques such as Artificial Intelligence (AI) and Machine Learning (ML) are crucial to active metadata management.
These technologies provide automated recommendations, extending the functionality of metadata beyond traditional business glossaries and data lineage.
Automation
In addition to enhancing data lineage and classification, Gartner emphasizes that active metadata management is critical for automating workflows. They enable automated analysis of users, use cases, and situations, allowing organizations to be proactive and agile.
It plays a significant role in automated data governance, streamlining the process of monitoring, maintaining, and enforcing appropriate data usage within an organization.
Workflow optimization
Data practitioners should also expect to see optimized workflows with active metadata systems. Even for those tasks that fall short of full automation, active metadata can optimize manual workflows for data practitioners.
Collaboration
Yet another area where active metadata shows its strength is collaboration. Active metadata can support the setup of a cohesive, integrated platform that enables various stakeholders to share, communicate, and collaborate effectively. This reduces data silos and fosters a more data-driven culture across the organization.
Read more → Gartner on active metadata management
As Gartner heralds the transition towards active metadata management, it also raises certain cautionary flags. Let's see what these are and how to watch out for them.
---
Gartner's warnings on active metadata management
The most notable concern revolves around the challenge of interoperability. In the absence of universal standards, achieving seamless interaction between disparate data systems poses a significant hurdle.
Gartner specifically warns that the lack of established standards can hinder systems from working together effectively. This lack of interoperability can compromise the "openness" that is so critical to active metadata, potentially restricting its ability to accommodate diverse data formats and interact with different applications.
That's why a holistic approach to active metadata management should include strategies to overcome interoperability issues and create an integrated, effective data management system. And with that, we'd like to introduce Atlan — the only catalog that activates your metadata.
---
Atlan's approach to active metadata management
Atlan is an active metadata platform for modern data teams. It creates a single source of truth by acting as a collaborative workspace for data teams and by bringing context back into the tools where data teams live. Atlan features deep integrations across the modern data stack, including Slack, Snowflake, dbt Labs, Redshift, Looker, Sisense, and Tableau.
Atlan has been featured in Gartner reports on active metadata management, data cataloging, DataOps, and more.
The latest Forrester report on Enterprise Data Catalog for DataOps named Atlan as a leader, receiving the highest possible score in 17 evaluation criteria including Product Vision, Market Approach, Innovation Roadmap, Performance, Connectivity, Interoperability, and Portability.
Atlan also debuted as a leader in the G2 Spring 2023 Grid® Reports for Data Governance, Machine Learning Data Catalog, and Data Quality categories.
Don't just take our word for it; experience it firsthand. By offering a platform that supports seamless interaction between diverse data systems, we're working to make Gartner's vision of effective active metadata management a reality.
---
Gartner Magic Quadrant for Metadata Management: Related reads
---